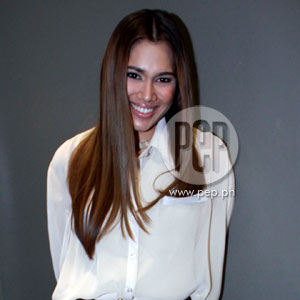 ---
The concert series billed Got Fridays @ Teatrino was the idea of Director Freddie Santos. They want to showcase promising talents who have not had the chance to topbill their show. It's a good idea to give talented singers the chance to shine and make an impact on the concert scene. The artist can do as he or she pleases but he or she must remember these: experiment, explore and expand.
Isabella, the daughter of the iconic Ms. Kuh Ledesma, the second artist to be featured in the series made quite an impression during her November 4 concert at Teatrino.
She opened her first set with When Love Takes Over by David Guetta then followed this up with Unwritten by Natasha Bedingfield. It's an inspiring song that sends out the message "go for your dream."
Isabella says part of the experiment thing in the concert series is doing a song by Justin Bieber. She says by doing a Justin Bieber song makes her take a step in the pop world. "I like the song because of its message," she says of Never Say Never which also used as theme song of the movie Karate Kid 3.
She followed this up with the Miley Cyrus hit The Climb.
For her next number, Isabella chose the song "Overcome"" which is a cut from her debut album called iDENTity. Then she followed it up with "Fatherless Child" which is also a cut from her album.
She revealed that she was inspired to write songs because of her dad. Isabella then dedicated "Fatherless Child" to her dad, Louie Gonzalez, who was watching that night.
The series was also an opportunity to showcase other new talents and one of them was Kevin Cisco who is a balikbayan so he knew only a little bit of Tagalog. It that was his first time to sing before a crowd, he seemed a little bit nervous.
ADVERTISEMENT - CONTINUE READING BELOW
After dishing out his first number titled Ain't No Sunshine, Kevin went to sing four of his original compositions namely Hopeless Romantic, Effortless , Caught In Between, and Just One Call Away, which he says he is dedicating to OFWs. Kevin says he considers himself an OFW because he's in Manila while his family is in the States. He's hoping that the cellphone companies could find use for his song.
He then ended his set by doing the hit Can't Take My Eyes Off You by Frankie Valli.
After Kevin, it was the turn of Vincent Bueno to wow the crowd. He sang Lately by Stevie Wonder. Then he sang his own composition titled Tunay Na Pag-ibig followed by the inspirational song Could You Be Messiah (composed by Direk Freddie Santos). He ended his set with the song I Feel Good."
Isabella started her second set by singing the old favorite Fly Me To The Moon, which was given a different arrangement that was suited to her style.
Then she did Woman, which she says is for the empowered women who are now quite aplenty in society.
Then she dished out "Don't Rain on My Parade" then followed this up with Make You Feel My Love. She called up Kevin back on stage and they did two duets: Someone Like You and If I Ain't Got You.
The show ended with Isabella and Kevin singing Lean On Me.
If one is not too familiar with Isabella's kind of music and got only to see for the first time in last week's show, the concertgoer would have had a pretty good impression of the young lady's singing talent.
It was also our first time to see her and we do admire her. Perhaps in her next show, we would suggest that she perform some OPM numbers, especially some of the songs that her mom, Kuh Ledesma, popularized.
ADVERTISEMENT - CONTINUE READING BELOW