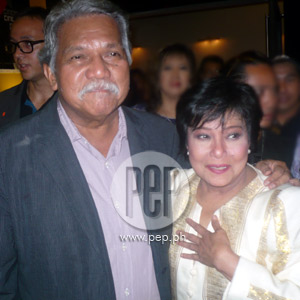 ---
PHOTO CAPTION: Cinemanila founding director Tikoy Aguiluz with Cinemanila's Lifetime Achievement Awardee Nora Aunor.
Filmmaker Amable "Tikoy" Aguiluz IV, in his acknowledgement speech, delivered a "message of hope" for Philippine cinema during the opening ceremonies of the 13th Cinemanila International Film Festival (CIFF). It was held last November 11, at the Market! Market! Cinema 1 in Taguig City.
Direk Tikoy recalled a conversation that he had with another filmmaker.
"I just want to tell you a very short story which I discovered a few days ago," began Direk Tikoy.
"I'll be very brief because we have a long program and all are excited to watch the 3D film of Wim Wenders," he also said.
Pina, a musical documentary from Germany and France, by German filmmaker Wim Wenders, served as the opening film of the 13th Cinemanila International Filmfest.
Continued Direk Tikoy: "We have one of the volunteers this year; one of the winners of the Cinemanila Film Festival two years ago [in 2009].
"He's a very talented filmmaker. Very young. And he has the youthful point of view in that he thinks [of the] possibility of the infinite--for the filmmaker.
"He has won several awards for short film. Then he won the critics' prize for the feature film.
"He won another prize in the festival, in Korea. And I asked him, 'What do you want me to say? What do you want to hear, in the opening speech that I will make?'
"And he said," noted Tikoy, "'I want to hear a message of hope...'
"'So, why? You won all these awards...'" the CIFF Festival Director told the young award-winning filmmaker.
And the filmmaker answered, "'Yes. I won all these awards, but I'm starting all over again...'"
Based on the brief conversation, Direk Tikoy noted: "Every new film is a different feeling. A different challenge. A different obstacle. It never stops.
ADVERTISEMENT - CONTINUE READING BELOW
"So, he [the young filmmaker] said, 'I want to hear a message of hope.'
"That there is some future out there for filmmakers.
"That people will watch our films. People will buy our films. People will buy a ticket to all our films, so we can make more movies.
"I said, 'We don't see that anymore...'
The young filmmaker added, "'I thought when [I won] the awards, everything will be different; everything will work for me. But it did not happen.'
"So, tonight, I'd like to share a message of hope," continued Tikoy, "because we feel that our thirteen years of struggle in organizing this festival has been the same process of making a film."
Started in 1999, the annual Cinemanila International Film Festival (CIFF) has continued its goal in promoting films of high artistic value and are considered world-class.
Further, the home-grown international film festival's objective "of bringing world cinema to the Philippines and Philippine cinema to the world" has attained considerable success.
"There are years when we wanted to quit," Tikoy further said. "[But], finally, we now have found a home."
Serving as the home of this year's Cinemanila Film Fest is the City of Taguig, which has fostered a partnership (said to be rather permanent this time) with Direk Tikoy and his group.
Expectedly, the Hon. Mayor Lani Cayetano, of Taguig City, was present at the 13th CIFF opening ceremonies.
Direk Tikoy continued with his speech: "So, I think, that is the message of hope that I would share with you tonight.
"If we just persevere and we wanted to continue with what we're doing; wanted to be foolish; wanted to be poor; wanted to be crazy...
"And now, it's our 13th year. And we have found a home. Maraming salamat po sa nagbigay sa amin ng bagong home.
ADVERTISEMENT - CONTINUE READING BELOW
"Maraming salamat po sa mga filmmakers; sa aming audience, na every year ay pina-patronize ang aming mga movies.
"And to our guests, for coming all the way [from different parts of the globe]. Thank you very much, everyone!"
LUCKY YEAR. Also, in his opening speech, Direk Tikoy made some notes about the utter significance of the number '13', which some people have misconstrued to be a rather "bad omen" and spells bad luck.
"You see, we don't have a 13th floor in our buildings; it's only 14th [floors].
"And it's Friday; in cinema, you need a lot of luck to survive," he observed.
Ironically, the 13th Cinemanila International Film Festival opening ceremonies falls on a date many have also considered as "lucky", that is, November 11, 2011 or 11.11.11 (triple eleven).
"So, tonight, we will dare use the word "13th" Cinemanila International Film Festival because, I think, we wanted to be 'lucky' this year.
"We were very careful, but, luckily, on our 13th year, we got the City of Taguig to be a major partner.
"Let's give them a round of applause. To the city government, maraming salamat po!
"It's been a lucky year for Cinemanila 'cause we now have found a permanent home. We're not 'gypsies' anymore.
"And, luckily, we discovered that in High Street [at The Fort], there's going to be a new building, a cineplex, and a cinematheque [that's being built].
"And hotels. And whatever it needs to run a festival.
"So, in 2012, the 14th Cinemanila, it will be a different ballgame for our friends and our volunteers and our cineastes and followers."
ACKNOWLEDGING THE 'SUPERSTAR'. Also present at the said event was Philippine cinema's one and only Superstar, Nora Aunor.
Direk Tikoy rightfully acknowledged the presence of Ate Guy, her first time to attend the Cinemanila Film Fest, as recipient of the Lifetime Achievement Award.
ADVERTISEMENT - CONTINUE READING BELOW
"It's really a great occasion tonight, to have the honor to have with us the Superstar, Nora Aunor.
"And we are grateful to the Nora Aunor fans who [came to support].
"Thank you, too, to the Asiong Salonga Boys, for coming. And the Viva Hot Babes," added Tikoy.
The Asiong Salonga filmbio is Direk Tikoy's "comeback directorial film," with a cast led by Laguna Governor Jorge "ER" Ejercito. Among the cast, PEP saw actors John Regala and Ketchup Eusebio, in attendance.
Governor ER was said to follow his group to the event, according to John Regala, who was talking to him on the phone after the formal opening rites.
Aside from the Superstar, Direk Tikoy acknowledged in his speech the Honorable Mayor of Taguig City, Lani Cayetano; MMDA general manager, Corazon Jimenez; the members of the diplomatic community; Italo Espinelli and the Italian friends and the producers of Dario Argento and "the staff who travelled all the way from Europe."
"And members of the Diplomatic community. I've seen Richard Quinzler, of the Goethe Institute; as well as [representatives of the] Instituto Cervantes; and [other representative staff] from the Embassy of Greece.
"Welcome to the 13th Cinemanila International Film Festival!
Italian filmmaker, Dario Argento, considered as the "Master of Horror" was the other Lifetime Achievement Awardee in this year's Cinemanila but he was unable to personally accept his award.
An Italian actress accepted the award, on his behalf. A video clip of Argento was also shown, in which he delivered his "thank you" speech.
With that, the 13th Cinemanila International Film Festival was formally opened.
It will end on Thursday, November 17, 2011, with the awards night (also at the Market! Market! Cinema 1) and screening of the festival closing film, Life In A Day (USA/UK 2011) by Ridley Scott and Kevin MacDonald.