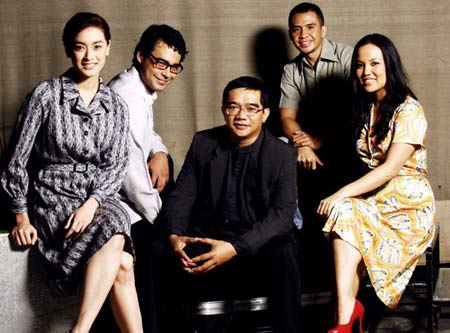 ---
Anatomiya ng Korupsyon, Dennis Marasigan's film adaptation of Malou Jacob's stage play, is set in a typical government office in the 1980s. But except for some retro fashion and the absence of computers and gadgets, it seemingly takes place in any other bureaucratic unit today.
Then and now, corruption is prevalent in many public sectors.
Thus the filmmaker's choice of material alone is already praiseworthy. It reminds us that the same rotten system of decades ago still prevails and it stirs us to wonder--and worry--if the problem can ever be solved.
Well, if only every Filipino can be like the movie's protagonist, Atty. Cely Martinez (played by Maricar Reyes), who aspires to be an honest and hardworking civil servant, then maybe we can have a good shot at improving the situation.
Trouble is she's made to look like the villain in the Family Court (patterned after the Juvenile and Domestic Relations Court of the past) that she works at by her superior, Atty. Ric Ricarte (Sid Lucero), because she refuses to play by the rules in the office.
Worse, she finds out that the Judge himself (Ricky Davao) is part of the system.
She's pushed to the wall. Will she back down and join the club? After all, the bribe money will help pay for her ailing mother's medical expenses.
One thing's for sure, though: she needs help. And that's the director's appeal to the viewer. Sadly this move feels like a cop out. Cely should make a definitive action to either bolster her ideals or weaken her resolve but will ultimately underscore the movie's point.
Thankfully, Marasigan added in footage of the Senate hearing on the ZTE case showing whistleblower Jun Lozada reiterating his boss' order to him: "Moderate their greed." This really sends chills down one's spine.
Marasigan also deserves applause for his brisk directorial style and his ability to bring out inspired performances from his actors.
ADVERTISEMENT - CONTINUE READING BELOW
Watching the office scenes feel like actually visiting a government office. You readily identify the erring ways of Cely's co-workers yet you can't totally hate them because they are given moments to explain their side of the story.
Cely, on the other hand, doesn't shed much light on why she's holding firm to her principles. It's only suggested that her late father may have been an idealistic lawyer that's why she turned out that way, too.
Maricar succeeds in bringing to life Cely's character both as a classy lawyer and a dutiful daughter but she falters in expressing internal conflict.
This impedes empathizing with her in a scene where she, drenched in rain water, comes home to a demanding mother, and in another where she, running late for work, gets stuck in the elevator.
Instead of looking haggard and harassed in those instances, Maricar is still poised and so pulled together.
Anatomiya ng Korupsyon was one of the ten entries that recently competed in the 7th Cinema One Originals Digital Film Festival. The film earned for Maricar Reyes the Best Actress award during the awards night. Maricar tied with Lilia Cuntapay (who topbilled Six Degrees of Separation from Lilia Cuntapay) for the said honor. Anatomiya will be screened on November 29 at 7:30 PM.

(CLICK HERE to view the screening schedule of Cinema One at UP Diliman from November 29 - December 3, 2011)