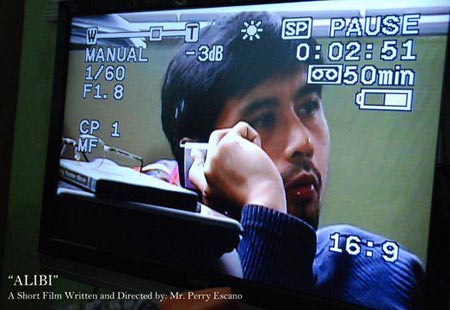 ---
PHOTO CAPTION: Richard Quan plays the lead role in Overture
Three short films, namely Overture, Alibi and Tama from the new production and artistic house of MP Productions, will compete in the Ika-23 Gawad CCP Para sa Alternatibong Pelikula at Video. The 23rd CCP Independent Film and Video Competition and Festival will take place from November 22-25, 2011, at the CCP Tanghalang Manuel Conde (Dream Theatre).
Overture presents a peek in the lives of Donald and Anne, best friends who take the courageous steps as they "level up" their friendship from platonic to romantic.
The two are giddy, giggling, exchanging meaningful glances, touchy-feely and excited of the events that will transpire.
This contemporary romantic story stars Richard Quan as Donald and Elle Velasco as Anne with screenplay by Roanne Belle Ng under the direction of Perry Escaño.
Escaño takes the director and screenwriter's chair in Alibi.
This cautionary tale is centrally about two actor friends Donald Valenzuela (Quan) and Ray Martinez (Yutaka Yamakawa) who perpetually searches for urban adventure and cosmopolitan excitement.
Although Ray is happily married, sex with a stranger is his secret fantasy. Things start to heat up when Ray agrees to be set up by Donald blind date, giving him the opportunity to realize what he covets.
Other cast members are Nix dela Rosa, Anne Real and Joan Palisoc.
Tama, meanwhile is about the unlikely friendship of a handsome hunk Rocky and the voluptuous Lilian.
The robust woman is secretly in love with her male best bud. However, when Rocky's status turned from "single" to "in a relationship" as he dates and falls in love with Debbie, Lilian's once contented existence becomes a living nightmare!
"Hell hath no fury a woman scorned" is now her mantra and she will do every thing just to get her Rocky back!
ADVERTISEMENT - CONTINUE READING BELOW
This black comedy, with screenplay by Escaño and direction by Yutaka Yamakawa features Meloudy Uy as Lilian, Chanel Latorre, Gonzalo Lozada Jr., Joan Palisoc and Joel Molina as Rocky.
Screening schedules: Alibi - November 22, (Tuesday), 10am; Overture November 24, (Thursday) 3:30pm and Tama - November 25 (Friday) 1pm.
Admission is free.