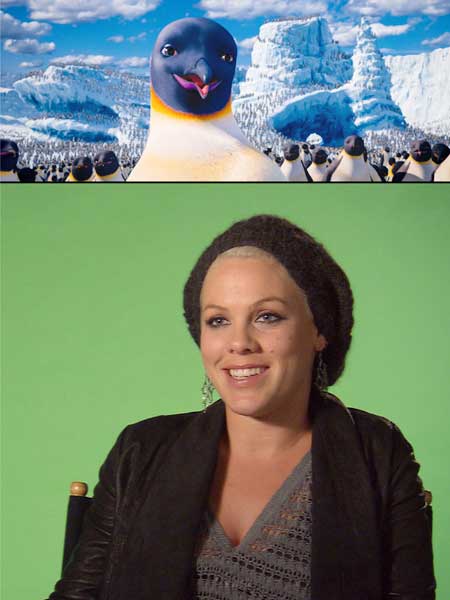 ---
PRESS STATEMENT FROM WARNER BROS:
"When Warner Bros.' highly anticipated sequel Happy Feet 2 begins, "It's party time," says director George Miller, "and at the center of everything are Mumble and Gloria. Gloria is singing, Mumble is dancing, and everyone is inspired by the rhythm and chemistry between the two."
"Mumble has grown up to be a respected leader within the Emperor penguin community. And if Mumble is the undisputed dance champ of Emperor Land, his mate Gloria is the undeniable diva. For the role of this powerhouse songstress, the filmmakers turned to Alecia Moore, also known as triple Grammy-winning recording artist P!nk. "P!nk was a natural for the role, and has been really superb," says director Miller. "She had sung in the opening of the first movie and wanted to be involved again because she's compassionate and a great animal lover. So for this one, in addition to voicing Gloria, she wrote the wonderful lullaby called 'Bridge of Light,' with Billy Mann."
"No stranger to a recording booth, Moore was nonetheless a little nervous about making her voice acting debut. Watching other cast members helped to change that. She recounts, "I got to watch Brad [Pitt] and Matt [Damon] not only record some of their dialogue, but they also had to sing. They just went for it, and I thought, 'Wow, I really have nothing to fear in there.'"
"Producer Doug Mitchell says, "When it came to Alecia's turn to record, of course, she totally nailed it. She's a great professional and a lovely person. Her song, 'Bridge of Light,' is wonderful and touches on one of the great themes in the movie."
"Alecia Moore (P!nk) has sold over 40 million albums and 65 million singles worldwide, winning three Grammy Awards, five MTV Video Music Awards, and one World Music Award. P!nk has cemented her spot as one of the biggest female artists of the past decade, and the top five touring artist in the world with her record-breaking Funhouse World Tour, which elevated her from an arena performer to a global stadium act.
ADVERTISEMENT - CONTINUE READING BELOW
"In 2010, "Raise Your Glass," the lead single on her compilation album celebrating a decade of success, Greatest Hits...So Far!!!, became P!nk's tenth Top 10 hit. It was her second solo number one hit, following 2008's "So What" from the album Funhouse, which also notched an additional three Top 20 hits.
"P!nk's previous albums include the 2000 debut Can't Take Me Home; 2001's worldwide success Missundaztood; 2003's Try This, which earned her a Grammy for Best Female Rock Vocal performance for the single "Trouble"; and 2006's I'm Not Dead, which generated five hit singles, including "U + Ur Hand" and "Who Knew," which both went on to number one on the pop chart. Rated number 13 on Billboard's 2000-2009 list of Artists of the Decade and number one Pop Song Artist of the Decade, she was also voted Best Recording Artist in 2009.
"Opening across the Philippines on November 23 in IMAX 3D, 2D and regular theaters, Happy Feet 2 is distributed by Warner Bros. Pictures, a Warner Bros. Entertainment Company."
Ed's Note: When content falls under "Press Statement," this means that the material is fully and directly from the company itself. The use of open-and-close quotation marks to envelope the entire text shows as much. This also means that PEP is not the author of the statement being read. PEP is simply providing the information for readers who may be interested.
SHARE THIS STORY Happy Feet 2
" data-url="https://www.pep.ph/guide/at-a-glance/9362/pnk-wrote-the-lullaby-bridge-of-light-for-happy-feet-2" data-desc="Alecia Moore (a.k.a P!nk) lends voice to Gloria in Happy Feet 2" data-image="https://contents.pep.ph/images2/guide/1321885896_happy-feet.jpg">
Happy Feet 2" data-url="https://www.pep.ph/guide/at-a-glance/9362/pnk-wrote-the-lullaby-bridge-of-light-for-happy-feet-2" data-desc="Alecia Moore (a.k.a P!nk) lends voice to Gloria in Happy Feet 2" data-image="https://contents.pep.ph/images2/guide/1321885896_happy-feet.jpg">
Happy Feet 2" data-url="https://www.pep.ph/guide/at-a-glance/9362/pnk-wrote-the-lullaby-bridge-of-light-for-happy-feet-2" data-desc="Alecia Moore (a.k.a P!nk) lends voice to Gloria in Happy Feet 2" data-image="https://contents.pep.ph/images2/guide/1321885896_happy-feet.jpg">
SHARE THIS STORY
Happy Feet 2
" data-url="https://www.pep.ph/guide/at-a-glance/9362/pnk-wrote-the-lullaby-bridge-of-light-for-happy-feet-2" data-desc="Alecia Moore (a.k.a P!nk) lends voice to Gloria in Happy Feet 2" data-image="https://contents.pep.ph/images2/guide/1321885896_happy-feet.jpg">
Happy Feet 2" data-url="https://www.pep.ph/guide/at-a-glance/9362/pnk-wrote-the-lullaby-bridge-of-light-for-happy-feet-2" data-desc="Alecia Moore (a.k.a P!nk) lends voice to Gloria in Happy Feet 2" data-image="https://contents.pep.ph/images2/guide/1321885896_happy-feet.jpg">
Happy Feet 2" data-url="https://www.pep.ph/guide/at-a-glance/9362/pnk-wrote-the-lullaby-bridge-of-light-for-happy-feet-2" data-desc="Alecia Moore (a.k.a P!nk) lends voice to Gloria in Happy Feet 2" data-image="https://contents.pep.ph/images2/guide/1321885896_happy-feet.jpg">
Happy Feet 2" data-url="https://www.pep.ph/guide/at-a-glance/9362/pnk-wrote-the-lullaby-bridge-of-light-for-happy-feet-2" data-desc="Alecia Moore (a.k.a P!nk) lends voice to Gloria in Happy Feet 2" data-image="https://contents.pep.ph/images2/guide/1321885896_happy-feet.jpg">