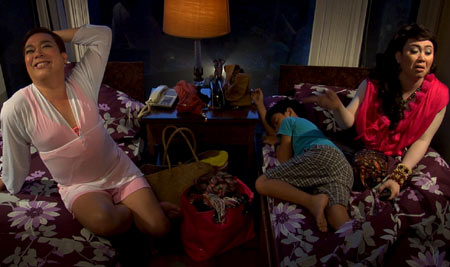 ---
A good mix of laughter and scare will come your way in this week's Regal Shocker.
John "Sweet" Lapus topbills the episode titled "Espiritista" wherein he will play the role of a talentless wanna-be paranormal expert named Gigi. In his hopes to get closer to his long-time crush Carlo (James Blanco), Gigi pretends to be an expert espiritista who can help drive away the evil spirits haunting Carlo's house.
Together with his best friend Betsy (Bekimon), the two will embark in a hilarious adventure trying to dispel other worldly creatures.
Will Gigi and Betsy's fake powers drive away the monster that lurks in Carlo's house? Can he still save Carlo's son or will he just save himself and forget about this nightmare?
Don't forget to catch Sweet in this thrilling and hilarious episode of Regal Shocker this Saturday, November 26, after Jose and Wally Show Starring Vic Sotto, on TV5.
SHARE THIS STORY Regal Shocker this Saturday
" data-url="https://www.pep.ph/guide/at-a-glance/9388/john-sweet-lapus-will-topbill-the-espiritista-episode-of-regal-shocker-this-saturday" data-desc="John "Sweet" Lapus will play a wanna-be paranormal expert in Regal Shocker" data-image="https://contents.pep.ph/images2/guide/1322150498_ESPRITIDTA001.jpg">
Regal Shocker this Saturday" data-url="https://www.pep.ph/guide/at-a-glance/9388/john-sweet-lapus-will-topbill-the-espiritista-episode-of-regal-shocker-this-saturday" data-desc="John "Sweet" Lapus will play a wanna-be paranormal expert in Regal Shocker" data-image="https://contents.pep.ph/images2/guide/1322150498_ESPRITIDTA001.jpg">
Regal Shocker this Saturday" data-url="https://www.pep.ph/guide/at-a-glance/9388/john-sweet-lapus-will-topbill-the-espiritista-episode-of-regal-shocker-this-saturday" data-desc="John "Sweet" Lapus will play a wanna-be paranormal expert in Regal Shocker" data-image="https://contents.pep.ph/images2/guide/1322150498_ESPRITIDTA001.jpg">
SHARE THIS STORY
Regal Shocker this Saturday
" data-url="https://www.pep.ph/guide/at-a-glance/9388/john-sweet-lapus-will-topbill-the-espiritista-episode-of-regal-shocker-this-saturday" data-desc="John "Sweet" Lapus will play a wanna-be paranormal expert in Regal Shocker" data-image="https://contents.pep.ph/images2/guide/1322150498_ESPRITIDTA001.jpg">
Regal Shocker this Saturday" data-url="https://www.pep.ph/guide/at-a-glance/9388/john-sweet-lapus-will-topbill-the-espiritista-episode-of-regal-shocker-this-saturday" data-desc="John "Sweet" Lapus will play a wanna-be paranormal expert in Regal Shocker" data-image="https://contents.pep.ph/images2/guide/1322150498_ESPRITIDTA001.jpg">
Regal Shocker this Saturday" data-url="https://www.pep.ph/guide/at-a-glance/9388/john-sweet-lapus-will-topbill-the-espiritista-episode-of-regal-shocker-this-saturday" data-desc="John "Sweet" Lapus will play a wanna-be paranormal expert in Regal Shocker" data-image="https://contents.pep.ph/images2/guide/1322150498_ESPRITIDTA001.jpg">
Regal Shocker this Saturday" data-url="https://www.pep.ph/guide/at-a-glance/9388/john-sweet-lapus-will-topbill-the-espiritista-episode-of-regal-shocker-this-saturday" data-desc="John "Sweet" Lapus will play a wanna-be paranormal expert in Regal Shocker" data-image="https://contents.pep.ph/images2/guide/1322150498_ESPRITIDTA001.jpg">