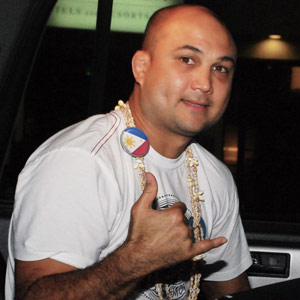 ---
Jay Dee Penn, more popularly known as B.J. Penn, is an American mixed martial artist who is a two-time UFC champion.
He was nicknamed the "Prodigy" after he became a top ranked jiu jitsu competitor three years after he started training.
This November, Balls (SkyCable Channel 34), the home of Ultimate Fighting Championship (UFC) in the Philippines, brings BJ Penn to Manila for a media tour.
"I am excited to be here in Manila. I really want to meet Manny Pacquiao. I'm sure the Philippines will also produce a UFC champ soon," said Penn. He will be seen in various ABS-CBN shows like Happy Yipee Yehey and Mornings@ANC.
The UFC champ will also have a public training and appearance on November 30 (Wednesday) , 4 pm at the SM Mall of Asia Music Hall. Penn holds the accomplishment of winning two titles in two different weight divisions in the UFC.
SHARE THIS STORY " data-url="https://www.pep.ph/guide/at-a-glance/9409/bj-the-prodigy-penn-will-guest-on-happy-yipee-yehey-and-morningsanc" data-desc="BJ "The Prodigy" Penn will hold a public training at the SM MOA on November 30" data-image="https://contents.pep.ph/images2/guide/72ebfb910.jpg"> " data-url="https://www.pep.ph/guide/at-a-glance/9409/bj-the-prodigy-penn-will-guest-on-happy-yipee-yehey-and-morningsanc" data-desc="BJ "The Prodigy" Penn will hold a public training at the SM MOA on November 30" data-image="https://contents.pep.ph/images2/guide/72ebfb910.jpg"> " data-url="https://www.pep.ph/guide/at-a-glance/9409/bj-the-prodigy-penn-will-guest-on-happy-yipee-yehey-and-morningsanc" data-desc="BJ "The Prodigy" Penn will hold a public training at the SM MOA on November 30" data-image="https://contents.pep.ph/images2/guide/72ebfb910.jpg">
SHARE THIS STORY
" data-url="https://www.pep.ph/guide/at-a-glance/9409/bj-the-prodigy-penn-will-guest-on-happy-yipee-yehey-and-morningsanc" data-desc="BJ "The Prodigy" Penn will hold a public training at the SM MOA on November 30" data-image="https://contents.pep.ph/images2/guide/72ebfb910.jpg"> " data-url="https://www.pep.ph/guide/at-a-glance/9409/bj-the-prodigy-penn-will-guest-on-happy-yipee-yehey-and-morningsanc" data-desc="BJ "The Prodigy" Penn will hold a public training at the SM MOA on November 30" data-image="https://contents.pep.ph/images2/guide/72ebfb910.jpg"> " data-url="https://www.pep.ph/guide/at-a-glance/9409/bj-the-prodigy-penn-will-guest-on-happy-yipee-yehey-and-morningsanc" data-desc="BJ "The Prodigy" Penn will hold a public training at the SM MOA on November 30" data-image="https://contents.pep.ph/images2/guide/72ebfb910.jpg"> " data-url="https://www.pep.ph/guide/at-a-glance/9409/bj-the-prodigy-penn-will-guest-on-happy-yipee-yehey-and-morningsanc" data-desc="BJ "The Prodigy" Penn will hold a public training at the SM MOA on November 30" data-image="https://contents.pep.ph/images2/guide/72ebfb910.jpg">