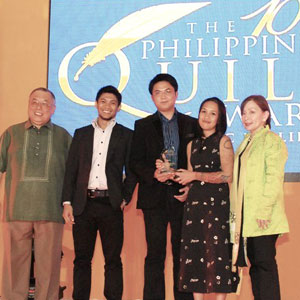 ---
PHOTO CAPTION: The Philippine Quill Award for ABS-CBN's Imortal Online was received by IABC Rey David, ABS-CBN's Boggs Labayen, Digital Brand Management head Mori Rodriguez, LA Dacula, and IABC's Roni Merck Tapia. TV5 bagged a Quill Award of Excellence for its online news portal, InterAksyon.com
PRESS STATEMENT FROM ABS-CBN:
"ABS-CBN won the most number of Philippine Quill Awards among all TV networks this year for its excellence in digital communications, advocacy project, and marketing communications.
"The Kapamilya network brought home four recognitions for its projects such as DZMM Teaching Learning Caring (TLC), DZMM TeleRadyo, Imortal Online, and e-Frequency employee intranet site.
"DZMM's TLC (Teaching, Learning, Caring) was awarded for providing help to underprivileged barangays through its classroom and clinic on-wheels, which offered storytelling sessions and medical check-ups to almost 30,000 individuals since its launch in November 2010.
"DZMM TeleRadyo won an award for its achievements in expanding its viewership, innovative approaches for advertisers that led to higher ad revenues for the station, and increasing subscription revenues by getting more cable TV operators to carry the station nationwide.
"ABS-CBN excelled in digital communications as its employees intranet site e-Frequency and Imortal Online received accolades.
"e-Frequency, a site maintained by ABS-CBN's Corporate Communications Division, was recognized for providing up-to-date company related news and information to its nearly 5,000 internal publics based here and abroad.
"Imortal Online, created by ABS-CBN's Digital Brand Management, was cited for its achievement in engaging viewers of the series Imortal in the online world via web series, contests, and other user generated contents that continuously engage viewers.
"The prestigious Philippine Quill Awards is given annually by the International Association of Business Communicators (IABC) Philippines. The awards are given to communications programs and tools that exhibit clear objectives and strategies, creative executions and measurable benefits. It is considered to be the country's most prestigious and relevant award for business communications programs.
ADVERTISEMENT - CONTINUE READING BELOW
"IABC is a global network of more than 14,000 business communication professionals in over 60 countries. The Philippines is the first IABC chapter outside North America."
Ed's Note: When content falls under "Press Statement," this means that the material is fully and directly from the company itself. The use of open-and-close quotation marks to envelope the entire text shows as much. This also means that PEP is not the author of the statement being read. PEP is simply providing the information for readers who may be interested.