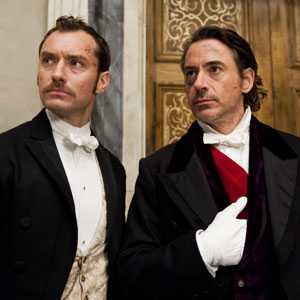 ---
PRESS STATEMENT FROM WARNER BROS:
"An award-winning, acclaimed actor with a wealth of widely varied film roles to his credit, Jude Law once again stars opposite Robert Downey Jr. as Dr. James Watson in Warner Bros.' new action-adventure Sherlock Holmes: A Game of Shadows.
"In the film, Sherlock Holmes (Downey) has always been the smartest man in the room...until now. There is a new criminal mastermind at large--Professor James Moriarty (Jared Harris)--and not only is he Holmes' intellectual equal, but his capacity for evil, coupled with a complete lack of conscience, may give him an advantage over the renowned detective.
"Downey reveals, "We see the aftereffects of Holmes having been consumed with Moriarty, to the point that he's clearly kind of 'nutting up.' He's focused on him to the exclusion of everything else, including, quite possibly, his own sanity," the actor smiles.
"That is the state in which Dr. Watson discovers his old friend when he returns to Baker Street on the eve of his wedding to Mary. Jude Law notes, "Watson arrives looking forward to the stag party that his best man, Holmes, was supposed to arrange. Instead, he finds he has reason to be concerned with Holmes' obsessive behavior regarding Professor Moriarty. I don't think he doubts that Holmes is right, and there's still a bit of the old soldier in Watson who feels a responsibility to see justice done. But he does suspect it will result in the dilemma he always faces: a secure life with his wife or the thrill of the chase. He undoubtedly has great times when he's on a case with Holmes and wants to help his friend out of the scrapes he gets himself into, so it's a constant struggle for the poor chap."
ADVERTISEMENT - CONTINUE READING BELOW
"Director Guy Ritchie says, "We'd all love to have the genius of Sherlock Holmes, although we're much more likely to empathize with Watson. Being a doctor, he is an intellectual in his own right, but to a degree, Watson is your every man who is enticed by a life of action and Holmes is his window of opportunity to that life. It makes for a perfect partnership, and that's the engine that drives these stories."
"The connection between Holmes and Watson was reflected in the off-screen friendship between the two actors playing them. Downey attests, "I feel about Jude the way Sherlock feels about John: I love the guy like a brother. I couldn't ask for a better partner."
"Developing the interaction between Holmes and Watson was one of the most rewarding parts of the first film, and from the get-go, Robert and I slipped right back into it," Law recalls. "We benefited this time from the fact that we really knew the characters, having laid the bedrock of their relationship in the first film, so we could trust our instincts and even push it a little further."
ADVERTISEMENT - CONTINUE READING BELOW
"Producer Joel Silver states, "There was a kind of magic that came out of the dynamic between Robert and Jude as Holmes and Watson, and the sequel gave us a chance to take that up a notch. In the first movie, we had to give audiences the time to get to know the foibles of the characters. Coming into this movie, we had already laid the foundation, so we could launch right into the action, which is bigger, funnier and more explosive in every sense of the word."
"Opening across the Philippines on Sunday, January 8, 2012, Sherlock Holmes: A Game of Shadows is distributed by Warner Bros. Pictures, a Warner Bros. Entertainment Company."
Ed's Note: When content falls under "Press Statement," this means that the material is fully and directly from the company itself. The use of open-and-close quotation marks to envelope the entire text shows as much. This also means that PEP is not the author of the statement being read. PEP is simply providing the information for readers who may be interested.
ADVERTISEMENT - CONTINUE READING BELOW