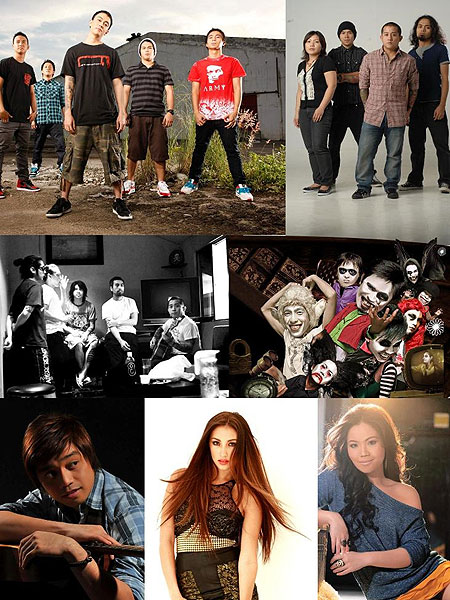 ---
It will be a celebration of '90s music as MCA Music and Samsung's Galaxy S WiFi 5.0 launch the album, 90s Music Comes Alive. The event at the Megaworld Lifestyle Malls at the following dates: January 13 (Friday), 7pm at the Eastwood Central Plaza and January 14 (Saturday), 8pm at Venice Piazza at McKinley Hill.
Chicosci, one of the country's top bands, leads the pack of performers with their version of EMF's "Unbelievable." Other artists in this all-star album include top band Urbandub (This Used To Be My Playground), superband Franco (Fake Plastic Trees), December Avenue (I Don't Wanna Wait), Miguel Escueta (Linger), Typecast (Twisted), Tanya Markova (Creep), king of acoustic pop Nyoy Volante (Power of Two), acoustic pop sisters Krissy & Ericka (Change The World), Toto Sorioso (Stay), Asia's acoustic sweetheart Sabrina (No Rain), sibling duo The Lamars (Someday), It Girl Solenn Heussaff (Torn) and multi-platinum crooner Richard Poon (Mambo No. 5).
The event will have even more excitement as Bravado, the full serviced merchandising company exclusively under MCA Music, will also be showcased at these events. Its product range is composed of apparel, branded ranges, posters/ calendars, event programs, accessories and gifts. Bravado's artist roster includes some of the biggest names in music and merchandise like Metallica, Led Zeppelin, Kanye West, Guns N Roses, Elton John, Alicia Keys, Beyonce, Red Hot Chilli Peppers, Robbie Williams, Spice Girls, Gwen Stefani, Shakira, Nickelback, Slipknot, Iron Maiden, Celine Dion, Shania Twain, Justin Bieber, Rihanna, Mariah Carey among others and locally, Urbandub.
ADVERTISEMENT - CONTINUE READING BELOW
Everyone is encouraged to reminisce the wonderful era before the new millennium or discover the '90s if that is not your generation.
90s Music Comes Alive is now out in CDs at leading record stores under MCA Music, and is presented by Samsung Galaxy S WiFi 5.0.