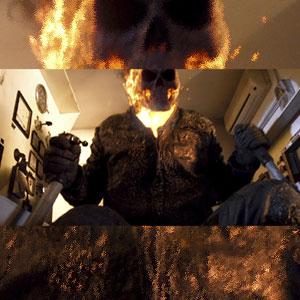 ---
PRESS STATEMENT FROM WARNER BROS:
"The directing team Neveldine/Taylor (Mark Neveldine and Brian Taylor)--known for its edgy, gritty and kinetic action movies Crank, Crank: High Voltage, and Gamer--take on the supernatural action thriller Ghost Rider: Spirit of Vengeance, the highly anticipated sequel to the 2007 blockbuster Ghost Rider starring Nicolas Cage.
"In the sequel, Johnny Blaze (Cage)--still struggling with his curse as the devil's bounty hunter--is hiding out in a remote part of Eastern Europe when he is recruited by a secret sect of the church to save a young boy (Fergus Riordan) from the devil (Ciaran Hinds). At first, Johnny is reluctant to embrace the power of the Ghost Rider, but it is the only way to protect the boy--and possibly rid himself of his curse forever.

"In the following interview, Brian Taylor--one half of the directing team --talks about the film during a visit with journalists on location in Eastern Europe.

Question: How's the shoot been going for you so far?

Brian Taylor: It's been going unbelievably well. The cast we have on this movie is unbelievable, so every day, there are performances that make you walk away super-funked up about what you're doing. The locations I mean are just unbelievable. This place Cappadocia in Turkey, it's like the desert planet on Star Wars in real life. It's crazy. I can't believe nobody's shot 50 movies there. We're shooting in these 6,000 year old ruins and just tromping all over them like it's a backlot. There'll be like a thousand of year old statue and grips are like standing on the head when they're setting lights.

Q: Was there one thing coming onto the project that was the most important thing for you to make it your own, make it feel fresh and original?

Taylor: It's just that we wanted to really humanize it, and well, I think the main decision coming in that we wanted to differentiate this movie and make it alive and fresh. In the last movie, the title character was played by stunt guys, so the big thing we wanted coming in before anything else was the Ghost Rider needs to be played by Nicolas Cage, always, all the time. When he's fighting, all the time, so 95% of the stuntwork, all the action, everything that is the "GR" is Nic and he's playing it as a dual role, because the Ghost Rider is possessed by the spirit of Zarathos, it's a different person, it's not Johnny Blaze.
ADVERTISEMENT - CONTINUE READING BELOW

So he's playing it as a dual role and a lot of the planning that went into the movie and preparation for his role is finding that character. What's the language of this demon? What's the language of this ancient god or whatever he is? We'll found out what he is but that's inhabiting this body. How does he move differently? And we nailed it and that's what makes it so awesome, because in those scenes, they're alive and every single frame you're watching Ghost Rider, it's gonna be the flaming skull, but you're going to feel an actor, you're going to feel a performance and you're going to feel a character in all of those moments. So it brings the raw energy of the dialogue and all of that stuff into the action scenes, too.

Q: How beholden are you either to the comics or the first movie in terms of the look or story? The new motorcycle is very different and it's not a big chopper like the comics, which is pretty outrageous.

Taylor: Well there's been a million Ghost Rider comics. There's been a lot of different versions of it and they're all totally different. For me, it's the full range of styles. The only books that we really were inspired by in the Ghost Rider canon were the Garth Ennis/Clayton Crain series, which is a much darker version of the character.

Q: So you're almost creating your own version of it?
Taylor: Yeah, we wanted to just completely depart from the first movie and make it a whole thing. We're picking up this character, whatever, five or six years later, and he's in a much different place. He's a much different guy. He's in Europe, it's a different bike. The physical transformation that happens to him has progressed where he doesn't look the same, the skull looks different, everything looks different. It's changed and progressed. Think of it like an illness and it's progressed and this is in the final stages of that illness. It's gonna feel a lot different from the first movie.
ADVERTISEMENT - CONTINUE READING BELOW

Q: Nic was saying that a lot of the things in here are very trippy, so I'm just curious if there are particular scenes that stand out as super-trippy to you?
Taylor: There's a lot. Well this exorcism scene is going to be excellent. We shot half of it this morning and we shoot half of it at the end, but we're really welcoming... you know there's like two different versions of Nicolas Cage. There's sort of mainstream Cage and there's balls-to-the-wall Cage, and we're definitely welcoming the demon. The performance we're getting from Cage, it's going to be one of those epic Nic Cage performances that people talk about.
Opening across the Philippines on February, Ghost Rider: Spirit of Vengeance is distributed by Warner Bros. Pictures, a Warner Bros. Entertainment Company.
Ed's Note: When content falls under "Press Statement," this means that the material is fully and directly from the company itself. The use of open-and-close quotation marks to envelope the entire text shows as much. This also means that PEP is not the author of the statement being read. PEP is simply providing the information for readers who may be interested.