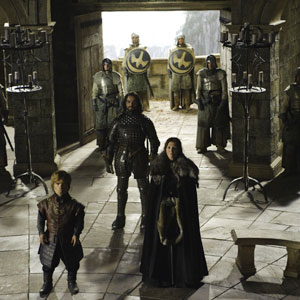 ---
During the recently concluded 69th Annual Golden Globe Awards, HBO received three wins for Mildred Pierce, Game of Thrones and Enlightened. The award ceremony took place on January 15 in Los Angeles, California (January 16 local time).


Kate Winslet of Mildred Pierce won Best Performance by an Actress in a Mini-Series or Motion Picture Made for Television while Peter Dinklage of Game of Thrones won Best Performance by an Actor in a Supporting Role in a Series, Mini-Series or Motion Picture Made for Television. Laura Dern of the HBO show Enlightened also won Best Performance by an Actress in a Television Series.


Starting this Saturday, January 21, HBO Signature will air a marathon of Mildred Pierce from 3:15 pm onwards. Mildred Pierce is the epic story of a proud single mother struggling to earn her daughter's love during the Great Depression in middle-class Los Angeles. The five-part miniseries, produced in association with MGM, follows the story laid out by James M. Cain in his 1941 novel of the same name.


Meanwhile, Game of Thrones premieres on HBO Signature every Tuesday at 10:00pm starting tomorrow, January 17. This epic HBO Original fantasy series is based on George R.R. Martin's best-selling A Song of Ice and Fire books.


The offbeat original series starring Laura Dern will make its way to HBO during the second quarter of 2012. Laura plays Amy, a self-destructive health and beauty executive who has a very public workplace meltdown. After three months of contemplation and meditation at a treatment center in Hawaii, Amy returns rested and ready to pick up the pieces of her old life and reshape the world she left behind. That includes delivering well-meaning, but generally unwanted advice to her mother with whom Amy is now living; her slacker ex-husband whose only solace comes from recreational drugs; and the crew of awkward co-workers Amy finds herself reassigned to.
ADVERTISEMENT - CONTINUE READING BELOW
The series follows Amy as she navigates an unconventional path between who she is, who she wants to be... and what everyone is willing to tolerate from her.