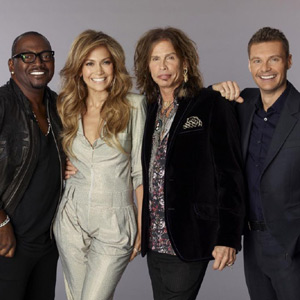 ---
Experience American Idol like never before as ETC offers fans a chance to have their voices heard. Catch American Idol Season 11 as it premieres via satellite this Thursday, January 19, and Friday, January 20, at 6PM on ETC, and witness the start of a truly localized viewing experience like never before.
American Idol features host Ryan Seacrest and returning judges Randy Jackson, Jennifer Lopez and Steven Tyler.
This year, watch as we travel across the United States to witness auditions held in Savannah, Aspen, Galveston, Pittsburgh, Portland, San Diego and St. Louis, all in the search for contestants who possess raw talent and the potential to become the next American Idol.
Those contestants who impress the judges will make it to the "Hollywood rounds" where they will be put to the test to see if they can handle the competition. If they pass they must then take on the "Performance Challenge" where the judges will have to make the hard decision of who will make it to the live shows.
ADVERTISEMENT - CONTINUE READING BELOW
In the milestone 400th episode of the show on February 29, the first group of semifinalists will take to the Idol stage as they perform live for the first time, with the second group of semifinalists taking to the stage the following night, March 1. The competition then takes a dramatic turn as on March 2, America's votes reveal the first set of finalists, and leave the remaining contestants one more chance to perform for the judges who will round out the group of finalists with their wild card picks. Catch all the talent, laughs, tears and drama American Idol has to offer on ETC.
American Idol Season 11 premieres via satellite this January 19, Wednesday and January 20, Thursday at 6PM with a primetime replay at 9PM on ETC.
The talent search will then air every Thursday and Friday at 6PM with a primetime replay at 9PM on ETC.