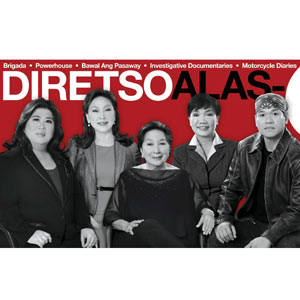 ---
PHOTO CAPTION: GMA News TV's shows are anchored by (L-R) Jessica Soho, Mel Tiangco, Winnie Monsod, Malou Mangahas and Jay Taruc.
PRESS STATEMENT FROM GMA NEWS TV:
"There are five very good reasons to switch to GMA News TV at 8 in the evening.
"The No. 1 news channel has completed its line-up of the most comprehensive public affairs programs on television today, led by five of the most awarded personalities in Philippine broadcast journalism.
"Kicking off the week is the modern spin-off to GMA's hugely popular news magazine program in the '90s, Brigada Siete. News TV's Brigada ni Jessica Soho gives a new generation of reporters the opportunity to present the stories behind the headlines. On the show, Jessica Soho mentors the reporters and attempts to get a deeper understanding of their reports. Barely a year after its launch, Brigada won the award for Outstanding Public Affairs Program at the 2011 Golden Screen TV Awards as well as an Anak TV seal for child-friendly content.
ADVERTISEMENT - CONTINUE READING BELOW
"Tuesday night makes way for the latest addition to News TV's 8 p.m. strip--Powerhouse, hosted by GMA news pillar Mel Tiangco. The program gives viewers a look into the private homes and lives of today's most powerful and controversial personalities. Tiangco's courageous, no holds barred questions make these profiles unforgettable.
"Halfway through the week, GMA News TV gives viewers a jolt with Bawal ang Pasaway Kay Mareng Winnie. In the show, Prof. Winnie Monsod acts as government watchdog as she breaks down national issues and official decisions while giving viewers a detailed explanation of the impact these have on their lives. Each side of an issue is represented in News TV's popular talk show, which won for Prof. Monsod the award for Outstanding Public Affairs Host at the 2011 Golden Screen TV Awards and an Anak TV seal.
"Malou Mangahas, one of the country's most respected investigative journalists, fearlessly tackles corruption, political dynasties and other anomalies every Thursday night on the hard-hitting program Investigative Documentaries.
ADVERTISEMENT - CONTINUE READING BELOW
"Finally, George Foster Peabody award-winning reporter Jay Taruc travels where four wheels cannot go as GMA News TV caps off the week with Motorcycle Diaries. Every Friday, Taruc takes viewers on a memorable immersion as he gets to know the people he meets along the way and listens to their untold stories.
"Eight in the evening will never be the same again, with GMA News TV's powerful line-up of Monday to Friday programs."
Ed's Note: When content falls under "Press Statement," this means that the material is fully and directly from the company itself. The use of open-and-close quotation marks to envelope the entire text shows as much. This also means that PEP is not the author of the statement being read. PEP is simply providing the information for readers who may be interested.