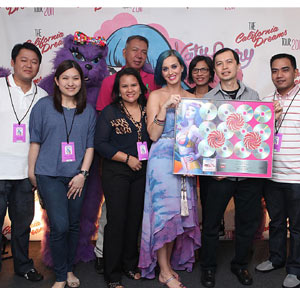 ---
PHOTO CAPTION: (L-R): Polyeast Records' Finance Director, Sharon Law; Polyeast Records' TV & Promotions Manager, Mel Katigbak; International pop icon Katy Perry; Polyeast Records' Operations Manager Jesmon Chua; Polyeast Records' Sales and Promotions Manager, Tonton Jose; (Back, L-R) Kitty Purr mascot, Polyeast Records' Art Director Willy Monson and Polyeast Records' Marketing Manager Ethel Cachapero. (Photo provided by MMI)
Katy Perry sashayed in a blue wig, peacock feathers as well as glitzy and glamorous outfits during her California Dreams Concert Tour in the Philippines last January 22, 2012. However, the 27-year-old singer-songwriter has truly gotten her gift from her Pinoy fans because her Teenage Dream album has finally been certified platinum in the Philippines.
Handed out by Polyeast Records led by it's Operations Manager Mr. Jesmon Chua, the official licensee of EMI Music International in the country, Katy accepted her platinum award after her show last January 22, 2012 at the SM Mall of Asia Concert Grounds. EMI Music and Polyeast Records are also delighted to announce that after three years of Katy chart dominance, second album Teenage Dream spawned a record-breaking five #1 singles on the Hot 100 and earned Katy Perry the title of being the only female artist to achieve that feat as she matched Michael Jackson's similar historic accomplishment with his Bad album in 1988. The latest single "The One That Got Away" might also have a chance to the first six Hot 100 chart-toppers and a possibility to break Michael Jackson's record.
Bringing the total hauls to more than 30,000 copies sold in the Philippines, songs that did it for 'Teenage Dream' were the radio-favourite "Teenage Dream," "T.G.I.F. (Last Friday Night)," which joined "California Gurls," the title track, "Firework" and "E.T." on Katy's hit parade. The sugary pop princess first graced Manila in November 2009with a sold-out concert performing her peppy, irresistible songs from the debut album "One of The Boys."
ADVERTISEMENT - CONTINUE READING BELOW
Recently, Teenage Dream was nominated at the 2011 Grammy Awards ceremony for Album of the Year and Best Pop Vocal Album. Katy has also been nominated for three American Music Awards, including Artist of the Year.
You can still get Katy Perry's award-winning albums One of the Boys and Teenage Dream still available in all record bars nationwide released by Polyeast Records.