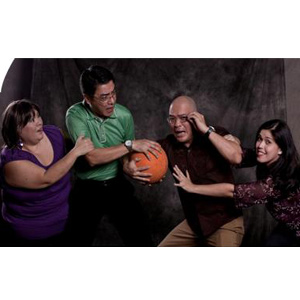 ---
The libretto for Rivalry: Ateneo-La Salle The Musical, which is about the intense competition between these two schools in basketball and other areas, has been completed, Ed Gatchalian, its executive producer and musical director, announced during a press briefing. He also said that the casting has also been finalized, with a total of 51 of the country's best theatre artists, including Noel Trinidad, composing the cast.
Produced by The 4th Wall Theatre Company and directed by well-known theater writer/director Jaime del Mundo, Rivalry opened last January 27, 2012 at the Meralco Theatre.
"Rivalry, may be about the fabled feud between La Salle and Ateneo in sports, academics, love and marriage, business, politics and the professions," Gatchalian noted. "But such competition and the excitement it generates is actually a universal theme which could involve various opposing organizations. It is thus something that will be of interest to, and will be enjoyed by, even those not associated with either of these two schools," Gatchalian underscored.
ADVERTISEMENT - CONTINUE READING BELOW
Gatchalian was heartened by the huge number of actors--young promising ones as well as established veterans--who have auditioned for various roles in Rivalry. "I'm happy that we were able to provide an opportunity for many young but already excellent actors to further hone their craft. But the interesting thing is that even several top stage performers joined our musical, even if they have small roles, or even just as part of the ensemble. They must have been attracted to it by the fact that Rivalry is unique, original and local--not just a re-make of a Broadway hit--and it was therefore something that would be exciting and a lot of fun for them to be involved in," he further stated.
Gatchalian has had a long and successful career in advertising, creating scores of jingles that have become familiar for generations of Filipinos. He was also the musical director for such shows as Celeste Music Hour, Pilita and Jackie Lou, and Champoy. He related how the idea for Rivalry came about.
ADVERTISEMENT - CONTINUE READING BELOW
"It all began over thirty years ago when Noel Trinidad, actor, singer and good friend of mine from our 'Champoy' days, approached me with an idea for an original musical about Crispa and Toyota, then the stellar teams in the Philippine Basketball Association (PBA). But the idea never materialized," Gatchalian explained.
"Last year, some three decades later, when I started writing original music with Jaime del Mundo on 100: A Musical Journey in C Major for the Insular Life Centennial celebration, it rekindled my desire to pursue Noel's idea. This time, however, instead of Crispa and Toyota, I decided to zero in on the two arch rivals Ateneo and La Salle," he pointed out.
Set in 1968, the story revolves around 2 families--one blue (Ateneo) and the other green (La Salle). In the center of the action are two young men--both star basketball players of their respective schools--vying for the affections of a beautiful coed from a nearby girls' school.
ADVERTISEMENT - CONTINUE READING BELOW
While the plot will certainly attract the alumni of both schools to flock to the theater, Gatchalian and his creative team believe it has something for everyone. After all, love and conflict are two universal concepts familiar to people--no matter what school they're from.
"The story has been in my mind for years because I lived those days. So I had a lot of nice memories and I just kept on putting them together. But when I decided to really be serious about this, the first thing I did was I consulted three friends from La Salle friends--Juan Miguel Llamas, Tony Cervantes and Jimmy Morelos. Based on their input, I did dummy lyrics. Then I started on the music," he recounted.
It was then that the synopsis for Rivalry: Ateneo-La Salle The Musical began to take shape. Gatchalian's music needed words and he knew exactly who to call--Joel Trinidad, a theater artist and lyricist and son of his good friend Noel. Joel wrote one song, gave the lyrics to Gatchalian and the latter set them to music.
ADVERTISEMENT - CONTINUE READING BELOW
Soon, the songs began taking shape and the story started coming together. But Gatchalian knew he needed somebody to help him put structure to his vision. He found the perfect man for the job in Del Mundo.
"I felt I would be the ideal person to direct musical this because I don't have strong feelings of loyalty to either school. I may have gone to La Salle Greenhills until Grade 3 but I could see and appreciate both the Ateneo and La Salle sides. My job is to find the commonality and right balance," del Mundo revealed.
Serious collaboration on Rivalry then began with Gatchalian working on the music, Trinidad penning the lyrics and del Mundo writing the book- three creative minds, each with his own working style. While this has posed a challenge on several occasions (they are all used to working on their own), all three agree that the creative process has been also been quite enjoyable.
ADVERTISEMENT - CONTINUE READING BELOW
Del Mundo elaborated: "We are very open about getting convinced by each other. Everyone is responsible for their own work, but we're all responsible together for the whole musical."
Gatchalian has actually written a part for his friend and Ateneo batchmate Noel Trinidad. And Joel is just as excited to see his father on stage, singing a song Joel has written especially for him.
"I've never written anything for my dad to sing before," admits Joel. "It's probably my favorite number. It's very vaudeville, and my dad will sing the hell out of it," he predicted.
Tickets available at all TicketWorld outlets.

Prices:

Orchestra Center
P1,699.50

Orchestra Side
P1,339.00

Loge-A
P1,030.00

Loge-B
P978.50

Balcony-A
P824.00

Balcony-B
P618.00