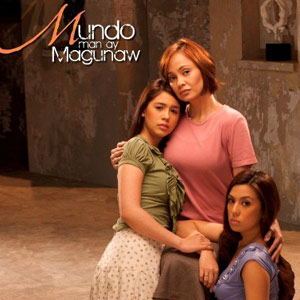 ---
ABS-CBN will air a special pilot week marathon of its first ever locally produced drama on a noontime slot, Mundo Man ay Magunaw, this Saturday (February 4), before Happy Yipee Yehey.
Get to know why its pilot episode won the ratings game with a 15.9% national TV ratings, beating GMA's Chef Boy Logro Kusina Master which only got 14.8%, based on Kantar Media. Mundo Man ay Magunaw shares the entwined lives of Olivia (Eula Valdes) and her daughters Sheryl (Empress) and Jennifer (Nikki Gil).
After 20 years of imprisonment, Olivia is off to restart her life and rebuild the family she never had. Brought together by circumstances, the three women will realize that no matter how big their differences and conflicts are, they still have to reunite to save each other. Don't miss Mundo Man ay Magunaw, every day on ABS-CBN.