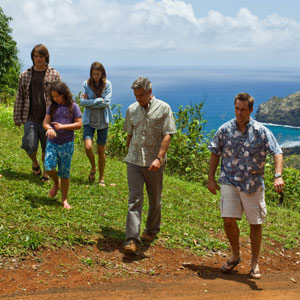 ---
This year's Oscar frontrunner for Best Picture (Drama), Best Director (Alexander Payne), Best Actor (George Clooney) , Best Editing and Best Adapted Screenplay--The Descendants is set to have its sneak previews on February 6 (Monday) and February 7 (Tuesday) in Metro Manila cinemas.
The Descendants is based on Kaui Hart Hemmings' acclaimed debut novel of the same title depicting a portrait of a man grappling with some of the worst news, most difficult people, and most impossible decisions of his life. Matt King (portrayed by George Clooney) is not the man he would like to be.
His mischievous daughters don't trust him, his imperiled wife has been cheating on him and his broke cousins see him and the land trust he controls as a piggy bank. To add insult to injury, he's surrounded by a lush, fertile, awe-inspiring landscape that defies his inner turmoil. Yet all of this leads Matt to a tumultuous awakening that might be awkward, comical and sometimes absurd, but nevertheless changes his concept of love, fatherhood and what it truly takes to be a man.
ADVERTISEMENT - CONTINUE READING BELOW
The Descendants has recently scored major awards including Best Actor (George Clooney) in Critics' Choice Movie Awards, Golden Globes, National Board of Reviews; Best Supporting Actress (Shailene Woodley) in Denver Film Critics Society, National Board of Reviews and Florida Film Critics; Best Film in Florida Film Critics, Los Angeles Critics Association and Satellite Awards; and Best Adapted Screenplay in Denver Film Critics Society, Florida Film Critics, National Board of Reviews, New York Film Critics Online and Satellite Awards.
The Descendants will have its regular run in Philippine cinemas on February 15 from 20th Century Fox to be distributed by Warner Bros.