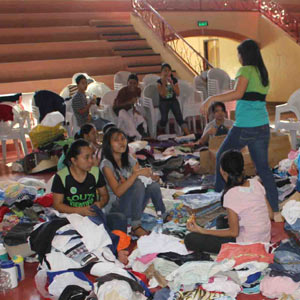 ---
When typhoon Sendong hit the country in mid-December 2011, leaving more than 600 dead, GMA Kapuso Foundation (GMAKF) delivered immediate response to the ravaged areas of Cagayan de Oro, Dumaguete, and Iligan City. In addition, the Foundation will implement long-term plan to sustain and support the affected areas.
The non-government organization served as conduit to deliver donations received from all over the country and even overseas.
Shortly after the Foundation commenced its Operation Bayanihan disaster relief program, cash donations from government and non-government entities, companies, and communities amounted to almost P70 million, while donations in-kind had monetary value of almost P19 million.
In Cagayan de Oro, the Foundation quickly set up a Command Post at the Capitol University Gym that housed repacking of supplies by community volunteers.
In Iligan, GMAKF also set up a Command Post at the Holy Cross Parish in Palao. Soon after, a similar repacking base was established at the San Isidro Parish in Talay, Negros Occidental. The posts enabled the Foundation to deliver the much needed help to the most affected individuals.
In all, GMAKF's Operation Bayanihan serviced close to 45,000 families or nearly 187,000 individuals in Dumaguete, Iligan, Cagayan de Oro, and other parts of Misamis Oriental. Relief assistance was complemented with feeding activities in select areas where food became an urgent need.
The Foundation also initiated separate medical missions in the mentioned areas to address immediate health concerns.
In partnership with the Philippine Medical Association, Rotary Club of Cebu, and government agencies like the Department of Health, Department of Social Welfare and Development, Philippine Army, and Philippine National Police, GMAKF pooled resources and mobilized volunteers to service close to 6,000 individuals who received free medical consultations, basic medicines, dental services, minor surgeries, eye refraction with free eyeglasses, and psycho-social counseling.
GMAKF also extends its relief assistance into long-term rehabilitation program. In fact, GMAKF EVP Mel Tiangco recently attended the groundbreaking ceremony of the Kapuso Village in Barangay Mandulog, Iligan City. The predominantly Maranao-populated area stands adjacent to other devastated areas of Hinaplanon and Santa Filomena.
ADVERTISEMENT - CONTINUE READING BELOW
In collaboration with the local government unit and local community, GMAKF ventures to build a housing project in a rural community in Iligan.
A water supply project is also being explored, as well as classroom rehabilitation under the Kapuso School Development project for identified communities in Dumaguete and Cagayan de Oro.
With its mandate of "Serbisyong Totoo," GMAKF goes beyond relief assistance to deliver projects with lasting impact in the lives of less privileged Filipinos.