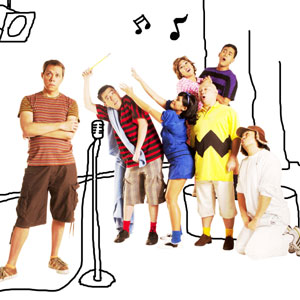 ---
The Peanuts comic strip, created by Charles Schulz in 1950, is well-known for its fleeting discussions about life. While Bill Waterson's Calvin and Hobbes involve its young characters in deep philosophical discussion many many times, Peanuts has young characters that talk like adults to outline the humor in our lives.
As such, Peanuts is perfect to be adapted to the stage. In 1967, the musical play You're A Good Man, Charlie Brown debuted off-Broadway. It was an instant hit, and has since been adapted in other parts of the world.
You're A Good Man, Charlie Brown comes to the Philippines to charm Filipino theatre lovers and their kids. Produced by 9 Works Theatrical, the local adaptation of You're A Good Man, Charlie Brown stays true to the material, and will be enjoyed by theatre lovers and their kids alike.
PEP.ph was invited to watch the press preview of the musical play on February 9.
You're A Good Man, Charlie Brown does not have a narrative. It is episodic; every scene is a new story, like it is one comic strip of its own.
Each scene also varies in length. Some are as short as the time you would spend reading a three-panel strip, while some are as long as a song. Regardless, all of these moments are important to form what You're A Good Man, Charlie Brown is all about.
You're A Good Man, Charlie Brown is about the little humorous moments in life that we largely ignore as adults. But because the characters in this musical play are five small children (and a dog), they could call out these hidden moments and extract humor from it.
At one point, Lucy expresses her desire to be married to Linus, who continously rebuffs her.
Sally thinks aloud of the injustices of getting a C for an art project. Linus wonders about the little joys in life brought by his little blanket. Charlie Brown marvels that the pencil he picked up, which a crush recently lost, has bite marks, making her "human."
ADVERTISEMENT - CONTINUE READING BELOW
These moments are only a few of the memorable scenes from You're A Good Man, Charlie Brown, moments that have good crossover appeal, to be enjoyed and understood by adults and kids in the audience.
Moreover, the songs easily are good crowd-pleasers, such as "The Book Report", "My New Philosophy", "Happiness", and "Suppertime."
Meanwhile, the performance of the actors are remarkable, most especially TV host Tonipet Gaba, who plays Schroeder with wide-eyed enthusiasm you cannot help but to cheer him on.
You're A Good Man, Charlie Brown runs every weekend of February, until March 3, 2012 at the Carlos P. Romulo Auditorium at the RCBC Plaza, Makati City.