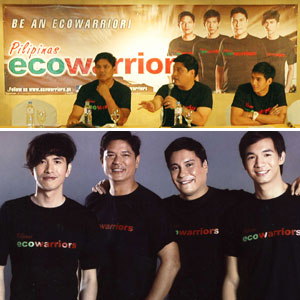 ---
PHOTO CAPTION: (L-R, bottom frame) Rico Blanco, Doc Nielsen Donato, Migz Zubiri and Chirs Tiu are the newest ecowarriors who will be promoting the power of social media to address environmental concerns. They will be lauched in a free concert at the Quezon Memorial Circle on March 14.
Tapping the power of social media to protect our environment is the new advocacy of Ecowarriors Migz Zubiri, Chris Tiu, Rico Blanco and Doc Nielsen Donato.
Officially known as Pilipinas Ecowarriors, the new environmental ambassadors will be launched in a concert on March 14 at the Quezon Memorial Circle.
Singer-artist Rico will be performing along with other guest bands. A special performance from cager Chris Tiu, who plays the piano, may also be expected.
Spearheaded by the resigned senator, Ecowarriors encourages the active involvement of the public in dealing with environmental issues through various social networking sites such as Facebook, Twitter and their official website, Ecowarriors.ph.
Since a lot of Filipinos have access to the internet nowadays, reporting environment-related crimes or incidents can now be accomplished by posting the details online and uploading pictures or videos to back it up.
Migz Zubiri added that they already have coordinated with the Department of Environment and Natural Resources and their regional offices as well as other concerned bodies such as the military and the police to immediately act upon the reports.
Basketball player and TV personality Chris Tiu is encouraging everyone to participate in the cause. He has been involved in other advocacies such as World Vision and Habitat for Humanity, which he worked with during some activities last year.
This year, he is thinking of gathering his fans and supporters to promote this new advocacy.
"Ako naman, whatever influence I have sa mga sumusuporta sakin, I try to use that as much as possible.
ADVERTISEMENT - CONTINUE READING BELOW
"I encourage them to take part also, cause I really believe in the cause and anybody can be an Ecowarrior."
Chris has almost 130,000 followers on Twitter and his fans are called Tiunatics.
"Ang dali lang, e. Tulad nga nung sinabi ni Migz kanina, lahat naman tayo marunong magvideo, magpicture...lahat naman tayo marunong mag-internet."
"Lalo na yung mga kabataan ngayon, lahat very...parating nakatutok dyan.
"Might as well use it in a positive way, di ba? "
Chris is a kagawad of Baranggay Urdaneta in Makati but he insists that he has no plans of entering politics, as of the moment.