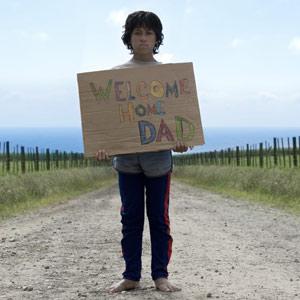 ---
Because of its lush landscape and breathtaking scenery, New Zealand is known for being an ideal filming location for blockbuster films, such as the Lord of the Rings trilogy and King Kong. Aside from its geographical wonders, however, New Zealand also boasts quality films that Filipinos will finally see in the first ever Experience New Zealand Film Festival from February 23 to 28, 2012 at Shangri-la Plaza in Mandaluyong City.
"It's a good way to introduce our very own films," said Andy White, the Second Secretary Deputy Head of Mission of the Embassy of New Zealand. "New Zealand is fast developing a reputation for a place to shoot great films, and we also hope to spread awareness of the country's involvement in the film industry."
Among the films selected by the New Zealand Embassy is No. 2, which won the Audience Award at the 2006 Sundance Film Festival. It is the story of Nanna Maria, who demands her grandchildren to mount a feast where she will name her successor. The film will be the main feature on the festival's opening night on February 22.
On Thursday, February 23, the festival opens to the public with Eagle vs. Shark, a romantic comedy about a socially awkward waitress and a loser determined to regain his dignity. In My Father's Den tells the story of a war photographer who returns to his New Zealand hometown.
Family movies is the center of the film fest, as it features The Topp Twins: Untouchable Girls, a comedy about a twin sister entertainment act, as well as Sione's Wedding, where a bride-to-be tries to ban her brother and his friends from her wedding. Second-hand Wedding, meanwhile, switches to drama when a young woman brings up issues about her mother's notorious bargain hunting.
Viewers will also be treated to the award-winning film, Boy, a story set in the '80s about Boy, a young lad who idolizes Michael Jackson so much that he imagines his absent father to be just like the singer. When his father returns to reveal he's been at jail for robbery, Boy has to face the man he thought he knew.
ADVERTISEMENT - CONTINUE READING BELOW
Maori culture will be highlighted in Whale Rider, a story about the quest for a successor to a leader in a Maori coastal village.
The festival also features four short films that will be shown on February 23 and 27. Coffee and Allah is the story of a young Muslim woman who overcomes her culture shock by connecting with people through her love for coffee, her Islamic faith, and badminton. The animated comedy Noise Control is about a rooster that pays the price for keeping its neighbors awake with his crowing. Viewers get another glimpse of Maori culture in Tama Tu, where a battalion of Maori soldiers try to ignore the reminders of war around them. Take 3, in the meantime, depicts three Asian actresses who find themselves uncomfortable playing their stereotypical Asian roles in Western movies.
Catch the free screening of these films at the Shang Cineplex from February 23 to 28, 2012.