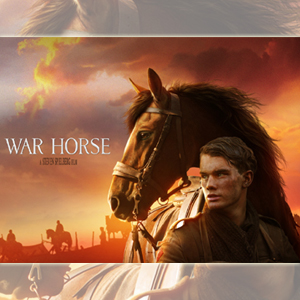 ---
Beginning March 1, Steven Spielberg's War Horse will be showing exclusively in all SM Digital Theaters nationwide.
The film—which boasts of best picture nominations, among others, from both the Oscars and the Golden Globes this year—stars English actors Jeremy Irvine, Peter Mullan, Emily Watson, and Tom Hiddleston.
It also features the work of award-winning cinematographer Janusz Kaminski of the Schindler's List and Saving Private Ryan fame.
This epic is based on the novel of the same title by British author Michael Morpurgo.
Its story tells the adventures of a horse called Joey and his owner, Albert Narracott (Irvine), whose special friendship began in the quiet hills of Devon, England.
There, Albert trained Joey to become a plough horse in their family's small farm. He showed much patience and kindness towards the animal that it soon began to trust and obey him.
Days passed and their bond continued to strengthen; until one day, the First World War broke out and their friendship was put to the test.
They got separated when Joey was sold by Albert's father to the British cavalry where he began his journey as a war horse.
From serving the British Captain Nicholls (Hiddleston), Joey finds himself galloping across Europe in the care of various hands.
He was first found by two young brothers, who served as medic assistants to the German army; then a frail teenage French girl and her grandfather took him in their small farmhouse.
He crossed paths again with the Germans and he was made to drag heavy artillery throughout the battlefield, until finally he ends up with a British Geordie soldier named Colin.
While all this was going on, Albert was left in Devon waiting for Captain Nicholls to fulfill his promise of returning Joey after the war is over.
Soon, Albert finds out about Captain Nicholls' demise and he goes to serve the British army with a secret mission to find Joey in the fields.
ADVERTISEMENT - CONTINUE READING BELOW
Director Spielberg showcases his magic once again in this heartwarming tale of courage, friendship, and kindness in the midst of war.
He's bound to create a new household name in Joey just as he did for the likes of E.T., the sharks of Jaws, and the dinosaurs of Jurassic Park.
The film is released by Dreamworks Studios and released in the country by Walt Disney Pictures. It is rated G by the MTRCB.