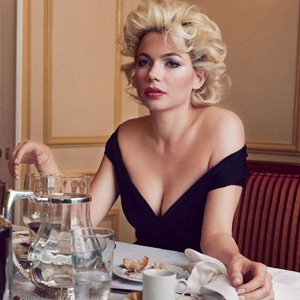 ---
The Weinstein Company's critically acclaimed and Oscar-nominated film My Week With Marilyn starring Michelle Williams and Kenneth Branagh will be shown exclusively at Ayala Malls Cinemas (Glorietta 4, Greenbelt 3 and Trinoma) starting February 29.
The film has been nominated for two Academy Awards, namely Best Actress (Williams) and Best Supporting Actor (Branagh). In the film, fresh graduate Colin Clark (Eddie Redmayne) met Marilyn Monroe (Williams) while working as a young assistant on Laurence Olivier's The Prince and the Showgirl.
When Marilyn experienced emotional difficulties during shooting, the 23-year-old third assistant director came to her aid and romance developed. But one week of honesty and fun was not enough to save the doomed star from self-destruction...
In its review of the My Week With Marilyn, Variety is all praises for the film, saying, "To the extent that Michelle Williams' multilayered interpretation of Marilyn Monroe serves as its raison d'etre, the film succeeds stunningly. "The film belongs to Williams, whose tour-de-force turn conflates three Marilyns: the lost, damaged little girl who seeks to escape others' expectations and return to simpler childhood days; the sexy superstar who impishly poses with a wink in complicity with her public; and the actress playing a pre-scripted part. The genius of the performance lies in the way Williams stresses the interconnectedness of these personalities: The neediness fuels the impudence, the vulnerability turns sexually provocative, and the little girl and sexpot together drive the screen role."
ADVERTISEMENT - CONTINUE READING BELOW
The Hollywood Reporter, for its part, writes, "Monroe's beauty was one of a kind. No one, not even Williams, can act it. What Williams does, with fierce artistry and feeling, is illuminate Monroe's insights and insecurities about herself at the height of her fame. Her scenes with a superb Kenneth Branagh, his wit martini-dry as the thin-lipped, defensive Olivier, ignite. It took a toll on Monroe to look effortlessly buoyant on camera. Williams lets us see why. It's a great, soulful performance. Sit back and behold."
Finally, Time Magazine applauds, "It's the compassion of her performance that makes Williams end up not just looking but feeling like Marilyn Monroe. Williams locates a central truth, the contradictory allure of this utterly impossible woman--mercurial, vain, foolish, but also intelligent in some very primal way and achingly vulnerable. You like her, but you wouldn't want to work with or for her."