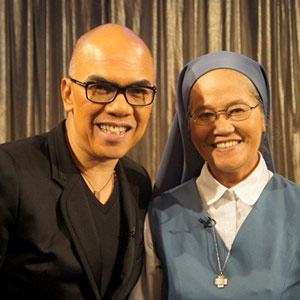 ---
EDSA People Power 'hero' Sister Ping Ocarizo will take Boy Abunda back to 1986 as they commemorate the events that took place in the peaceful revolution that put the Philippines in the map, in a special episode of The Bottomline with Boy Abunda this Saturday (February 25). Sr. Ping was one of the nuns, who bravely faced the soldiers with tanks, to pray and offer food and flowers to the military men.
How did People Power Revolution challenged Sr. Ping's faith, principles and love for the country? What was the Philippines like under the dictatorship of Marcos? How did her faith help her in the middle of the revolution? After 26 years, does she believe that 'the Filipinos are worth dying for?'
Don't miss the celebration of the EDSA Revolution's 26th anniversary in the Asian TV Awards' Best Talk Show for 2011 The Bottomline with Boy Abunda, this Saturday night, after Banana Split on ABS-CBN.