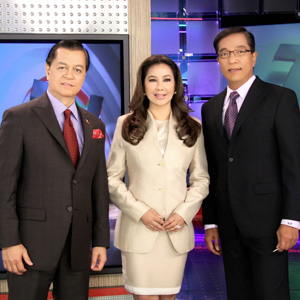 ---
TV Patrol, the country's longest-running Filipino primetime TV newscast, is celebrating its 25 years of patrolling the nation to deliver the biggest news and latest happenings while empowering citizens to become actively involved in nation-building.
'Kayaban' Noli De Castro, Korina Sanchez, and Ted Failon, the most experienced and credible team of broadcast journalists in the country, will present a special silver anniversary episode on Monday (March 5) and launch the "TV Patrol Balitandaan," which will mount 25 mini-monuments, each to be revealed every week, in landmarks where the 25 biggest news events in the last 25 years happened.
TV Patrol will also undertake a venture called "Beinte Singko Para sa Kabayan Ko," which will encourage Filipinos to drop in 25 cents in customized TV Patrol cans to be distributed in 25 provinces all over the country. The fundraising target amount of P2.5 million will be given to selected beneficiaries.
Through the program's commemorative activities, TV Patrol seeks to engage Filipinos towards a common goal and bolsters their role as 'patrollers' that exhibit concern and service for the nation.
In 1987, the trailblazing TV Patrol revolutionized the way Philippine TV networks produce their primetime newscasts when it introduced a novel, mass-oriented format that appealed to Filipinos' craving for news reports and information when democracy was restored.
Its first 25 years saw a string of groundbreaking firsts for TV media--it became the first news program to deliver news on weekends and the first to be available online via livestreaming--innovative steps to deliver relevant and timely news and cater to more Filipinos in the country and around the world. More notably, TV Patrol has redefined the concept of citizen empowerment by encouraging Filipinos to be active and vigilant.
ADVERTISEMENT - CONTINUE READING BELOW
ABS-CBN's award-winning breakthrough election campaign "Boto Mo, iPatrol Mo" (BMPM) called on citizens to report irregularities, election violations, and emergencies via text message, MMS, and e-mail before and during the 2007 and 2010 national elections. And it was through ABS-CBN's citizen journalism campaign that the Maguindanao massacre was exposed. The first report on the Maguindanao massacre was sent by a BMPM patroller, who sent the first picture taken from the site.
BMPM, which was born from the "Citizen Patrol" segment of TV Patrol, empowered citizens to become agents of change by providing them airtime and allowing them to report on pressing problems in their own barangays and cities. Through the efforts of the BMPM Patrollers and ABS-CBN reporters and anchors, the TV network was named the most credible news source covering the elections according to a Pulse Asia survey in February 2010.
The team of De Castro, Sanchez, and Failon topped the 2011 survey in the National Capital Region by StratPolls Inc. as the most credible news team on Philippine television.
The 25th anniversary episode of TV Patrol will air on Monday (March 5, 2012). Watch out for a special documentary marking the silver anniversary of TV Patrol airing soon on ABS-CBN.