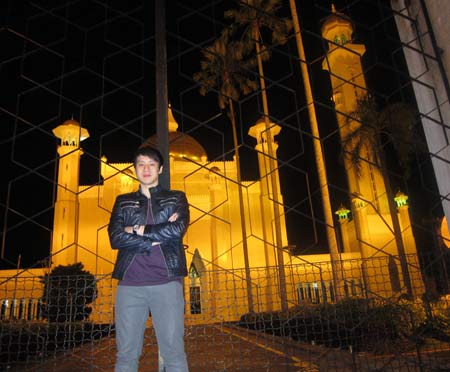 ---
Platinum Big Band Crooner Richard Poon recently set foot in Brunei for the first time to perform for the fundraiser "AID Mindanao," attended by nationals, royalties, dignitaries, and some Filipinos. Proceeds of the show went to the victims of Typhoon Sendong in Cagayan De Oro and Iligan.
"Performing in Brunei for the very first time has been all good and memorable," says Richard. "The event was attended by dignitaries from neighboring countries, who are willing to help the Philippines. I am proud to have been part of it."
Richard started his 2012 with an important international gig and he intends to conquer new territories the rest of the year. He is also excited to start working on a string of career-defining projects--a new album, a major concert, new songs.
"Hopefully, I get to go around Asia," he enthuses. "I am currently practicing my Chinese in preparation for that tour."
Aspiring for international stardom, Richard admits that some adjustments on his music will be employed: fusion of pop and big band.
This will also enable him to reach to an even wider market in and outside the country.
Richard rarely talks about his lovelife, but when PEP.ph asked him about the current state of his heart, he quipped, "I have an object of love, but we're not together."
The multi-platinum singer, however, would rather not disclose the identity of his special girl.
The sessionista further adds, "I am at this point in my life where I learned that I have to love in a patient way. I am in no hurry because once I commit to someone special, it will surely be for keeps. I am not in a phase anymore to hop from one relationship to another without long-term plans."
ADVERTISEMENT - CONTINUE READING BELOW
The male singer admits in the past, he used to rush into "love" quickly and relied mainly on emotions to carry it through, which he realized later could not sustain relationships.
He reiterates that the most important thing is that his heart is in happy state, and according to him, this inspires him to be a better performer.
Later this year, Richard is looking forward to having a major concert with another icon of the music industry at the PICC. His last major concert late last year was with Jose Mari Chan.
"We've been planning for this concert for the longest time," says Richard. "I really hope my concert with this top female singer pushes through this year."
During this interview, he also shares a lifelong dream of having a project like David Foster and Friends, where his songs will be interpreted by other artists.
Unknown to most people, Richard is also a gifted songwriter. In fact, he has written songs for the albums of Nina, Piolo Pascual, Sam Milby, and new duo Krissy and Ericka.
He dreams of also working with Gary Valenciano, Martin Nievera, Jose Mari Chan, Regine Velasquez, Christian Bautista, Erik Santos, JayR, Kyla, Bamboo, Angeline Quinto, fellow Sessionistas, and new singers Thor & Emmanuelle for this future endeavor.
"However, upon the advice of my manager Erickson Raymundo of Cornerstone, I have to focus on my singing career first," clarifies Richard. "I am willing to wait for that dream to become a reality. Now, I just have to focus on what I have to do."
ADVERTISEMENT - CONTINUE READING BELOW
Richard places his full confidence on Erickson because, "he [Erickson] was the one who insisted that I do standards, against my will since I was then more into pop. Luckily, I obeyed him and it paved the way for everything to start rolling."