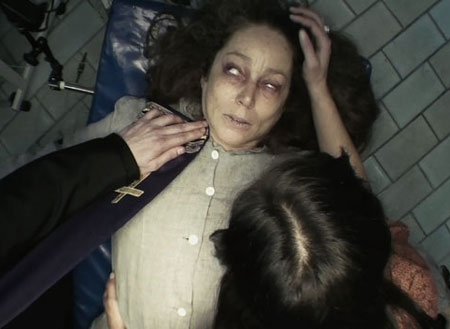 ---
Horror movie fans are flocking to watch the movie Devil Inside now on its 2nd strong week at the box office. This film features horrifying scenes of exorcism where the mind-boggling behavior of demon-possessed people.
In 1989, emergency responders received a 9-1-1 call from Maria Rossi confessing that she had brutally murdered three people. Some twenty years later, her daughter Isabella seeks to understand the truth about what happened that night. She travels to the Centrino Hospital for the Criminally Insane in Italy where her mother has been locked away to determine if her mother is mentally ill or demonically possessed.
She meets two priests, Ben (Simon Quarterman) and David (Evan Helmuth). Ben and David take Isabella with them on an exorcism performed on Rosalita (Bonnie Morgan). They bring along medical equipment to determine if it's possession or mental illness. Rosalita attacks the crew after spouting out obscene remarks in different languages and accents. She calls Isabella by her name, despite not knowing her. Eventually, they get her under control.
When Isabella goes to visit her mother, Maria, in the asylum, she finds that her mother also speaks in different accents and has paintings all over the walls. She has inverted crosses carved into her arms and her bottom lip. Maria tells Isabella that killing a child is against God's will, then lets out an ear-shattering scream. Isabella tells David and Ben that she had an abortion years ago and her mother had no way of knowing that-another sign that showed possible possession.
ADVERTISEMENT - CONTINUE READING BELOW
The international cast includes Fernanda Andrade as Isabela Torelli, Simon Quarterman as Ben, Evan Helmuth as David, Suzan Crowley as Maria, Ionut Grama and at Bonnie Morgan II.
Devil Inside is a Paramount Pictures Presentation directed by Brent Bell and is distributed locally by United International Pictures through Solar Entertainment Corporation. It is currently being screened in Philippine cinemas.