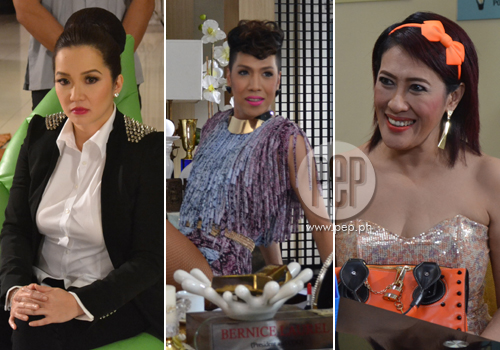 ---
In Sisterakas, Bernadette (Ai-Ai delas Alas) and Totoy (Vice Ganda) are half-siblings who have always had a passion for fashion. But when it's revealed that Totoy was the product of an illicit affair, he and his mother get thrown out of their opulent dwellings.
As brother and sister grow up apart, their fates soon switch. Bernadette ends up being a down-on-her-luck single mother with two daughters while Totoy transforms into Bernice and heads a prominent fashion empire with an iron fist.
Bernadette ends up applying for and being hired as an executive assistant in Bernice's company, completely unaware that her soon-to-be-boss is her half-brother.
Out for revenge, Bernice does everything to make Bernadette's life a living nightmare but fails. Seeing the new assistant's potential, Bernice's fashion rival Roselle (Kris Aquino) swoops in and causes even more mayhem for everyone.
As a comedy, the film's cast does a satisfactory job in making viewers laugh—or giggle at the very least.
As usual, Vice Ganda relies on his tried-and-tested comedic arsenal of quick wit and sarcasm. It's actually quite odd that there's nothing all too different between his performance in this film and the one for his 2010 remake of Petrang Kabayo: He's the horrible boss of his own company and he's seeking revenge for something awful he has experienced in the past. You can interchange the two portrayals and you'll get the same effect.
As for Ai-Ai, her humor largely depends on how loud her voice is. She seemed to have found her niche in portraying the street-smart yet sensitive single mother. On its own, it's enjoyable enough. But considering how much she's relied on this shtick far too many times in the past—particularly in her Tanging Ina franchise—she ought to explore other roles if she wants to continue her reign as the country's Comedy Queen.
ADVERTISEMENT - CONTINUE READING BELOW
Kris is by no means a comedienne, that's for sure. But what definitely works to her advantage is how she's willing to make fun of herself and her public image. Her take on eccentric fashionista Roselle only shows that while she can't crack jokes, she can still be funny because she allows herself to be the subject of the jokes. Everything about her was fair game: her signature laugh, her roster of horror movies, her even longer roster of endorsements, the catch phrases she uses for the game shows she's hosted, and even her ex-husband James Yap.
It's obvious that teen stars Kathryn Bernardo and Daniel Padilla were thrown in to the mix just to extend the movie's box-office appeal to the lucrative youth market. The two—popularly referred to as the KathNiel love team—only had a paltry love story to work with that didn't really do anything other than momentarily divert people's attention away from the absurdly zany main plot.