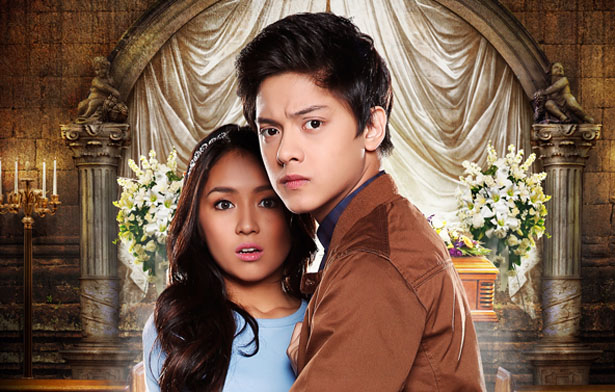 ---
In this age of technological wonder, the Filipinos hang on to the age-old belief of indulging in merrriment before going home from a wake to diffuse the gloom of the funeral. Or worse. It is believed that you have to go somewhere else to "dust off" (or in Tagalog, pagpag) the possibility of a ghost following you home.


Directed by Frasco Mortiz and written by Joel Mercado, Pagpag, Siyam na Buhay is inspired by this ancient Filipino tradition.


The film's subtitle, Siyam Na Buhay, represents the nine Filipino beliefs that are associated with deaths and funerals. They are observed to this very day by most Filipinos because it is believed that sinister deaths await anyone who violates and disrespects these ancient practices.


The only horror film in this year's festival, Pagpag stars today's hottest love team: Daniel Padilla and Kathryn Bernardo.
Cedric (Daniel Padilla) and his friends accidentally find themselves at the funeral that is set up by Leni (Kathryn Bernardo).


Every member of the group unwittingly breaks each of these nine superstition beliefs: it is forbidden to go directly home from a funeral; it is forbidden to sweep floors in a wake; it is forbidden for a teardrop to fall on the dead's coffin; it is forbidden to use the mirror in a wake; it is forbidden to bring home food from the wake; it is forbidden to go to a funeral with a wound; it is forbidden to wipe tears from the dead's casket; it is forbidden to spend money intended for the dead, and it is forbidden to accompany visitors to the door as they leave.


True enough, Cedric and Leni seem to have brought home with them a vengeful ghost, and death soon claims the family members and friends of Cedric and Leni.


ADVERTISEMENT - CONTINUE READING BELOW
Cedric and Leni are forced to team up in order to defeat the malevolent spirit. Despite the couple's efforts to stop the ghost's vengeful attacks, more deaths occur and time is running out. The discovery of a dark secret about the ghost's past and its connection to Cedric and Leni puts their lives in great danger. Will the couple be able to save themselves from the evil they have unleashed?
In line with its 20th anniversary, Star Cinema reunites with Regal Films to present this horror film that marks the first time that Paulo Avelino and Shaina Magdayao are paired in the big screen.

This film also stars Clarence Delgado with the support of Matet De Leon, Dominic Roque, Miles Ocampo, CJ Navato, Michelle Vito, Janus Del Prado, and Marvin Yap.