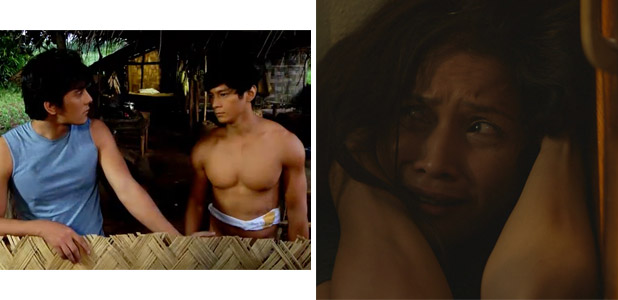 ---
From December 18 to 24, 2013, five full-length indie films will be shown as part of the New Wave Section of the 39th Metro Manila Film Festival (MMFF).


Five animation films as well as three student short films will be screened along with the full-length films at SM Megamall and Glorietta 4.


A mix of mainstream and independent artists are featured in the New Wave entries including Agot Isidro, TJ Trinidad, Ejay Falcon, Baron Geisler, Raquel Villavicencio, Perla Bautista, Irma Adlawan, and Biboy Ramirez.


The New Wave section serves as a prelude to the main competition featuring eight entries that will open by December 25.


(To learn more about the eight mainstream entries, CLICK HERE)


At a recent press conference, Metro Manila Development Authority chairman Francis Tolentino, who is also the overall chairman for the MMFF, appealed for public support for the said film entries.
"We assure you of good entertainment when you watch and see these New Wave films by our young and budding filmmakers who crafted them in different genre such as drama, romantic comedy and action drama," said Chairman Tolentino.
Winners for Best Picture stand to win as much as P300000, P100000 and P50000 for the full feature, animation and student short film categories, respectively. Awards will also be given for Best Director, Best Actress, and Best Actor for the full-length film entries.
The MMFF's New Wave section was introduced in 2010 to cater to independent or "indie" producers and aspiring student filmmakers from various colleges and universities in the country.
Moviegoers can watch the following films that will be screened at Glorietta 4 (Makati City) and SM Megamall from December 18 to December 24, 2013. Tickets are priced at P100.
ADVERTISEMENT - CONTINUE READING BELOW
FULL-LENGTH FILMS

Mga Anino ng Kahapon
Written and directed by Alvin Yapan
Cast: Agot Isidro, TJ Trinidad, Carlo Cruz, Carl Acosta, Upeng Galang-Fernandez
Produced by Vim Yapan/Alem Chua Productions in partnership with Janssen Philippines
Agot Isidro plays the role of Irene—wife, mother and nurse. Irene was inspired to get into the medical profession because she saw how her own mother (also a nurse) cared for wounded rebels during Martial Law. When Irene's husband Ed goes abroad to work, her schizophrenia is triggered, signaling the journey of Irene and her family in dealing with her condition.
TJ Trinidad plays Irene's husband, Ed, who is frustrated by his wife's denial of her disease. Young actor and commercial model Carlo Cruz is cast as Irene's brother-in-law Carlo, child actor Carl Acosta is cast as Irene and Ed's son Brian, and Upeng Galang-Fernandez plays Irene's mother-in-law Flor.
"The film has an important message to convey," says Agot, who prepared for the role by watching documentaries about schizophrenia and going on an immersion at the National Center for Mental Health (NCMH) in Mandaluyong.
"The cast and production team were given a briefing about schizophrenia by the director of NCMH. We also visited and talked with the patients at NCMH up close. It was [an] eye-opening experience," Agot adds.
Director Alvin Yapan explains the intense role Agot plays in the movie: "The film shows the different levels of [schizophrenia], from the mildest to the acute levels… Agot would go through all in one shooting day. She would be okay in one scene and go through a breakdown in the next!"
ADVERTISEMENT - CONTINUE READING BELOW
The film was made to raise awareness about schizophrenia, erase the stigma associated with mental illness and show the struggles of patients and families living with the condition.
Island Dreams
Written by Aloy Adlawan
Directed by Aloy Adlawan and Gino M. Santos
Cast: Louise Delos Reyes, Alexis Petitprez, Irma Adlawan, Chanel Latorre, Natasha Villaroman, Hector Macaso, Junar Vidal, Ronaldo Baxafra
Produced by Kenau Pictures Production
Filmmaker, writer, producer, director and composer Aloy Adlawan is behind the movie Island Dreams. It depicts the story of an underprivileged Filipina who dreams of becoming a singer. Her life changes when she meets an American on the island where she lives.
GMA-7 actress Louise delos Reyes plays Julie, an aspiring singer who needs money to prepare for an audition to a talent reality show. She usually makes money by serving as a tourist guide to visitors of the resort island where she lives with her blind mother.

She gets her chance when she meets an American named Zach (played by Alexis Petiprez), a visitor in search of True Love's Peak. It's a secluded place in the island surrounded by a myth that anybody who sets foot on its grounds is bound to find true love.
Alexis was born in Paris, France and took drama courses as a hobby. Theater stalwart Irma Adlawan plays Julie's mother.
Dukit
Written and directed by Armando "Bing" Lao
Cast: Willy Layug, Raquel Villavicencio, Bor Ocampo, Mark Joseph Grisworld, Hazel Thea Lelay, Mary Grace Martinez, Petite Dobles, Rhea Angela Lim, Zelinda B. Sotto
ADVERTISEMENT - CONTINUE READING BELOW
Produced by Center Stage Productions (Brillante Ma. Mendoza)
In Kapampangan, "dukit" means "carved in wood," and this film with the same title tells the real-life story of known sculptor Wilfredo "Willy" Tadeo Layug from Pampanga.
In the movie, the lead character is Waldo, played by Willy himself, who was born to religious but impoverished parents. At an early age, Waldo suffered his first personal tragedy when his father abandoned the family for another woman. He suffered his second tragedy when his mother died.
Waldo assumed the role of the breadwinner to support his three sisters, and continued to do so even after getting married to his childhood sweetheart.
The early years of marriage were times of struggle, especially financially, but sheer genius, industry, discipline and perhaps faith, all helped to turn the tide in Waldo's favor. Through his affiliation with the Catholic church, Waldo rose from rags and obscurity to riches and fame.
According to producer Brillante Mendoza, "One year in the making [itong movie] dahil kinapture niya ang mga social events sa Pampanga. So year-round ito. Major props din yung inukit na mukha ni Jesus Christ, so sinundan ang proseso [ng paggawa nun]."
For Willy, his reason for accepting the project lies in the opportunity to inspire others. "Nagmula kami sa hirap. It's not impossible to dream big," he says. "At the same time, we also want to promote our culture and arts sa Betis, [Pampanga]."
Ang Maestra
Written and directed by Joven Tan
Cast: Biboy Ramirez, Perla Bautista, Dennis Padilla, Jenine Desiderio, Dexter Doria
ADVERTISEMENT - CONTINUE READING BELOW
Produced by Pixel Works Enterprise / Scenema Concept International
Ang Maestra depicts the life of a teacher named Antonia Dela Vega (portrayed by Perla Bautista). She 1ived her retirement under the care of her grandson Raphael (played by Biboy Ramirez). The movie captures how this caring, dedicated, and passionate teacher deals with the present and remembers a glorious past, all while coping with senility.
Biboy, who also co-produces the film, shares that the movie pays tribute to teachers. "What makes this movie different from other entries is that kami lang yata ang medyo melodramatic. May kurot, may iyak. Sa texture pa lang, ito yung drama na tipong papanoorin ng mga mommy at mga lola," he says.
According to director Joven Tan, "Ang pelikula [at] musika [ay] dalawang bagay na kapag pinagsama ay makakabuo ng kakaibang damdamin. Isang malaking karangalan na maging bahagi ng dalawang mundong ito, mundo na ninanais ng karaniwang tao na maging parte ng pag-ikot nito."
Saka Saka
Written by Manuel R. Buising
Directed by Toto Natividad
Cast: Ejay Falcon, Joseph Marco, Baron Geisler, Toby Alejar, Perla Bautista, Kathleen Hermosa, and Mon Confiado
Produced by Cinebro
Saka Saka is a story about two brothers, Alex and Abner, whose family and lives are shattered upon their initiation to the violent world of political assassins or "saka saka."
Alex is played by Ejay Falcon, one of the most bankable young action stars in the industry today, while model-turned-actor Joseph Marco takes on the role of Abner.
The movie exposes the secret world of the saka saka as it explores the age-old conflict between lawful righteousness and violent revenge. It challenges audiences to think about the extent to which people may go in defending and protecting their families from oppression and corruption.
ADVERTISEMENT - CONTINUE READING BELOW
Ejay feels honored to be part of Saka Saka, an action-packed drama family drama directed by Toto Natividad.


"Napakadaling katrabaho si Direk Toto, na direktor ko rin sa Dugong Buhay. Masarap [gawin itong project] kasi bilang fan ako ng action, nagawa ko ito," says Ejay who also stars in Girl, Boy, Bakla, Tomboy, another MMFF entry in the mainstream category.
This film marks the first lead role for Joseph. "Napakadami ko pong natutunan at nag-grow po ako bilang isang actor sa paggawa ng pelikulang ito," says Joseph who is also part of the ABS-CBN teleserye Honesto.
Playing the role of the young Balneg (the boys' father) is Baron Geisler. "It's a good action film—may puso," says Baron of Saka Saka, which marks his debut in the New Wave Section and brings his total number of MMFF films to four. "I'm very excited—it's an action film and I got to use some guns! It's like every boy's dream," he enthuses.
ANIMATION FILMS

(OMJ) Origin of Mang Jose
Directed by Apollo C. Anonuevo
Produced by Apollo C. Anonuevo / Koji-Kabuto Enterprise
A superhero from a small town rescues people for a living, asking for payment after he defeats their enemies. Not satisfied with the money he makes, he goes to the city to continue saving lives—but with a cost. His adventure begins when he crosses paths with Mang Kanor, the head of a big syndicate who operates in the city.
Kaleh and Mbaki
Written, produced and directed by Dennis Sebastian
ADVERTISEMENT - CONTINUE READING BELOW
A very hungry hornbill bugs his busy master, the Shaman, to feed him. When ignored, the hornbill resorts to other ways of catching the master's attention but things take a turn for the worse.
Ang Lalong ni Kulakog (Kulakog's Rooster)
Written and directed by Omar P. Aguilar
Produced by Ateneo De Naga University
This is a story about Kulakog's rooster, Lalong, who lives in a hill with him and his wife Tilmag. They live a peaceful but unique way of life, but Lalong perceives it differently.
Gayuma ni Maria (Maria's Love Potion)
Written, directed and animated by Gabriel Z. Villalon
Produced by Gabriel Z. Villalon / Press Play Productions
A young man finds the woman of his dreams in a mysterious field, only to realize that he was under the influence of the isaw vendor's love potion.
Mamang Pulis (Mr. Policeman)
Produced and directed by Hannah Espia
This is an animated documentary about Conrado Villanueva "Kuya CV" Flores, property custodian of the University of the Philippines Film Institute (UPFI) from 1978 to 2012. In this short documentary, he talks about the history of the UPFI and the future of student filmmakers.
STUDENT SHORT FILMS

#No Filter
Written and directed by: Luigi Lupe Rosario, MAPUA Institute of Technology
Cast: Zharla Alminar
Produced by: Luisa Rosario
A vain and narcissistic woman always takes a bunch of self-portraits or "selfies" on her smartphone before going out.

A regular day of self-pampering, self-admiration and self-indulgence turns into a spiral of comic and surreal events. From a bad hair day to clown make-up, how can a narcissist overcome these challenges?
ADVERTISEMENT - CONTINUE READING BELOW
Hintayin Mo Sa Seq. 24
Written by Jezreel Reyes and Jose Lemuel Silvestre, Far Eastern University
Directed by Jezreel Reyes
Cast: Dudz Teraña and Kenneth Mandrilla, with Divine Grace Aucina, Joeven Cunanan, Maricar Porras, Jimloyd Tambot.
Produced by Jose Lemuel Silvestre
This is a romantic-comedy-drama film that consists of four layers (past, present, commercial, and movies in my mind) showing the journey of an advertising employee making a commercial for bottled mineral water. Behind the making of the commercial is the conflict within himself on how to admit his feelings towards someone he likes. This conflict shows how the advertising employee obtains inspiration to finish the commercial.
Gapos
Written by JMK De Guzman, Shain Ann Castillo, Quatro Mendiola
Directed by JMK De Guzman, Colegio De San Juan De Letran
Cast: Ronald Regala, Vic Romano, James Lomahan, Faith Cagulada
Produced by Rizchel Anne Miguel
Four individuals abducted by a group of vigilantes are thrown in a room with a ticking bomb. As difficult as the situation is, one of the victims is still given the chance to get out and survive. But with time running out, a decision must be made immediately so that one can still survive. Will they be willing to spare the life of someone other than themselves?