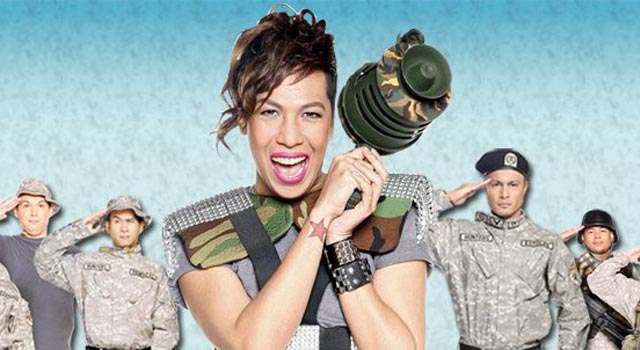 ---

Who doesn't remember The Unkabogable Praybeyt Benjamin, one of the first films to catapult Vice Ganda to box-office fame?

Released in 2011, the movie was the first Filipino film to break the P300 million mark in the box office.

For the 2014 Metro Manila Film Festival (MMFF), the comedian and TV host is reprising his role as Benjamin "Benjie" Santos VIII in Praybeyt Benjamin 2.

This time, Vice Ganda is joined by Richard Yap, Bimby Aquino Yap, as well as Alex Gonzaga.
Do you remember these hilarious moments from The Unkabogable Praybeyt Benjamin?
1. Benjie comes from a long line of distinguished warriors and soldiers in the family. His grandfather was a military general played by Eddie Garcia, whom he called Popsie. During their meeting at Popsie's birthday party, his grandfather found out for the first time that Benjie is gay. "Sino diyan si Benjie?" Popsie asked. Much to his shock, someone answered, "Yun pong sumasayaw sa gitna," referring to the dancer dressed in baro't saya.
ADVERTISEMENT - CONTINUE READING BELOW
2. Benjie's father, played by Jimmy Santos, chose not to become a soldier and instead followed his love for science. A civil war forced Benjie to sign up for the military to take the place of his ailing father and to help save his grandfather who was taken hostage by rebels. Benjie and his sister reminded their father, "'Tay, hindi na kayo puwedeng sumali diyan! May alta presyon kayo, diabetes, may almoranas ka pa. May alipunga pa po kayo!"
3. Derek Ramsay played the role of their platoon leader Brandon, and also Benjie's love interest. When they were trying to find out who among the soldiers was gay, Brandon suggested using a blind item, and speaks in gay lingo. "Sinetch itech na jundalo na baklush pala?" Benjie was immediately caught when he answered, "Sino?"
4. Benjie's band of misfits joined him in his (mis)adventures at military camp. They were played by Vandolph Quizon, Kean Cipriano, Nikky Valdez, Ricky Rivero, DJ Durano, and Jojit Lorenzo. Nikki's character had always suspected that Benjie was gay, and tried to convince him to admit it. At one point, Benjie tried to prove he was straight by kissing Nikki. Before he could even get close to her lips, Benjie threw up!
ADVERTISEMENT - CONTINUE READING BELOW
5. Benjie's heroics went on full display after he was forced to leave the military camp due to an alleged scandal. He was joined by his loyal friends and together they stumble upon the enemy's base where Brandon and Popsie were being held hostage. No one in their platoon would believe them so they took matters into their own hands. Benjie was shot by the enemy, and found himself in heaven talking to his ancestors.

"Di mo pa oras. Di ka puwedeng mamatay. Ikaw ang bida dito, e. Comedy pa," said one of his lolos.