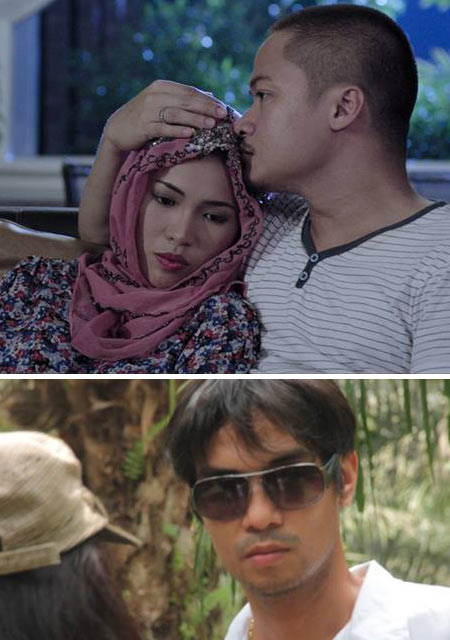 ---

Chanel Latorre felt "traumatized" after shooting her rape scene for the indie film Maratabat (Pride and Honor).

This political drama is one of the entries featured in the New Wave category of the 2014 Metro Manila Film Fest entry.

The other finalists in the MMFF 2014 New Wave section are Gemini, M (Mother's Maiden Name), Magkakabaung, and Mulat.

The New Wave finalists will be screened as a prelude to the opening of the 40th edition of the MMFF. The entries will be shown from December 17-24 at SM Megamall and Glorietta 4 cinemas.

(Read: Films of Zsa Zsa Padilla, Jake Cuenca, Allen Dizon included in MMFF 2014 New Wave section)



Maratabat mirrors the reality of politics and violence in Southern Philippines.

It is the directional debut of Arlyn dela Cruz who has been a broadcast journalist for nearly 25 years.

Maratabat is actually a Maranao word that means pride.

The film depicts the power struggle between two rival families. The Abubakar family has been ruling over their region for several generations until they are challenged by the Mahardika clan, which is enjoying the support of the people who want to break free from the abusive leaders.

Chanel Latorre is cast as Stela Mahardika, the wife of Ronwaldo Mahardika (played by Ping Medina).

How did she prepare for her role as a Muslim woman?

"Meron akong peg sa role na ito, real-life person siya. Tiningnan ko siya as a person and tinanong ko ang people in Maguindanao around her. Inincorporate ko lang ang yun sa idea ko on how a Muslim woman should be."

How was it like working with Ping Medina?

"Nakakagulat kasi sila ni Alex [Medina, his brother] natural actors sila.

"Ping is very refined is very refined as a person. Si Alex rockstar yun saka ang lakas ng sex appeal nun!"

She describes Ping's character, Ronwaldo Mahardika, as someone who cannot bear witnessing the atrocities being committed by the rival Abubakar clan.

"Si Ping hindi na niya kaya na makita ang mga tao na nagsa-suffer that way. We [referring to their Mahardika clan] know na kaya rin namin silang kalabanin coz we are also a powerful and rich family.

"Papasok pa lang kami sa politics. The people were pushing us to run against the Abubakar clan just to stop the violence and the brutality that they were doing."

Kristoffer King is cast as Alfonso Abubakar, a town mayor.

Chanel recalls: "Tumayo talaga ang balahibo ko sa lahat ng eksena na nandun si Kristoffer King.

"I can say na sa mga nakatrabaho ko, isa siya sa mga actors na pinakamahusay."

Kristoffer's character is a cruel man who rapes the wife of his rival.

When PEP.ph (Philippine Entertainment Portal) asked Chanel to describe how they shot her rape scene, she revealed that she was shocked by the way the scene was executed.

"Alam ko na mare-rape ako sa movie na ito.

"Actually, sinabi ko kay Direk Arlyn at the start of the movie...

"Sa clan war kasi, usually nare-rape ang mga babae.

"Sabi ko, 'I don't want to know how we are going to shoot the scene. I want to be surprised kapag ginawa na sa akin ni Kristoffer King yun.'

"Sabi ko kay Direk, kayo na lang po mag-usap kung paano gagawin. Sabihin niyo lang sa akin ang extent ng pwede kong galaw for the camera."

Where did they shoot this rape scene?

"Sa plantation siya. Siya ang pinakaviolent na nagawa ko, e, ang dami ko nang violent scenes na nagawa.

"Noong time na yun, ramdam na ramdam ko na nare-rape ako.

"Iniisip ko nung time na yun, 'My God! Ang hirap maging artista!'"

Did she become afraid of Kristoffer?

"Yes! Sobra!"

What happened to her after shooting the sensitive scene?

"After ginawa sa akin ni King, Oh my God! Sumakit talaga ang katawan ko. Binalibag talaga ako!

"Alam niyo yung bag? Ginawa akong bag ni Kristoffer King."

How did Kristoffer help her after their violent scene?

"After nun, parang niyayakap ako ni King. Iyak ako ng iyak kasi hindi ko matanggal ang feeling.

"Niyakap ako ni King pero ako [sinabi ko], 'ikaw kasi, e!'"

Did she get hurt while shooting her rape scene?

"Sobra. Emotionally, pagbasa ko pa lang ng script, naiyak na talaga ako."

Did she experience trauma after doing this scene?

She admitted, "A few hours after doing that scene, meron. Hindi ko tinitingnan si King."

Chanel really wanted to do this indie film even though she was busy shooting another movie, Resiko: Ang Mauban, that was shot on location in Quezon province.

"From Quezon, dumiretso ako sa Maguindanao. Siguro eight hours na trip then plane then may barko pa. But I really wanted to do it.

"It was really fulfilling seeing people sa Maguindanao...who really wanted this movie to be shown and to make people be aware sa province nila."

The actress spent a week in Mindanao to shoot her scenes.



NOT RELATED TO AMPATUAN MASSACRE. Although the film Maratabat will feature violence and a bloody massacre, Direk Arlyn and the stars of the film reiterate that this movie is not related to the Maguindanao (also known as Ampatuan massacre) that took place on November 23, 2009.

The heinous election-related massacre caused the death of almost 60 people (including journalists and civilians).

The bloodbath is tied to the rivalry between the Mangudadatu clan and the ruling Ampatuan family over who will rule the province.

In Direk Arlyn's movie, there are also two rival families who are engaged in a bitter clan war. The Abubakar family has been the abusive, ruling clan for decades while the Mahardika clan is being supported by the people who want a new leader.

Julio Diaz is cast as the ruthless governor Zalvador Abubakar.

He is being challenged by Ping Medina, who plays Ronwaldo Mahardika.

Chanel explains, "Maratabat is basically a story of clan wars. Pinagsama-sama ni Direk Arlyn ang mga nakita niya na clan wars sa Mindanao.

"Nagtaon lang na nare-remind tayo [ng Amptauan massacre].

"But it's good kasi for me, I really think we should be reminded kasi hanggang ngayon, wala pa ring nabibigay na hustisya sa mga biktima."

In the movie, what triggered the clan war between the Abubakars and the Mahardikas?

"Power tripping," explained Chanel. "Mostly naman sa clan wars, it involves politics and power.

"Yung clan namin didn't really want to go into politics but it's just that yung side nina Julio [patriarch of the Abubakar clan], parang they were getting out of hand na.

"They were killing people...anyone who would cross their way.

"Maraming mapapatay, kahit kapamilya ng side ni Julio...basta kakalabanin siya or ang mga anak ni Julio, papatayin nila."

Maratabat also stars Richard Quan, Shyr Valdez and Ms. Elizabeth Oropesa.
ADVERTISEMENT - CONTINUE READING BELOW
SHARE THIS STORY Maratabat: "Binalibag talaga ako!"" data-url="https://www.pep.ph/guide/mmff/14916/chanel-latorre-traumatized-by-rape-scene-with-kristoffer-king-for-indie-film-maratabat-binalibag-tal" data-desc="Although Maratabat will feature a bloody massacre, the stars and director reiterate that this is not related to the Maguindanao/Am" data-image="https://contents.pep.ph/images2/guide/4844faf0b.jpg"> Maratabat: "Binalibag talaga ako!"" data-url="https://www.pep.ph/guide/mmff/14916/chanel-latorre-traumatized-by-rape-scene-with-kristoffer-king-for-indie-film-maratabat-binalibag-tal" data-desc="Although Maratabat will feature a bloody massacre, the stars and director reiterate that this is not related to the Maguindanao/Am" data-image="https://contents.pep.ph/images2/guide/4844faf0b.jpg"> Maratabat: "Binalibag talaga ako!"" data-url="https://www.pep.ph/guide/mmff/14916/chanel-latorre-traumatized-by-rape-scene-with-kristoffer-king-for-indie-film-maratabat-binalibag-tal" data-desc="Although Maratabat will feature a bloody massacre, the stars and director reiterate that this is not related to the Maguindanao/Am" data-image="https://contents.pep.ph/images2/guide/4844faf0b.jpg">
SHARE THIS STORY
Maratabat: "Binalibag talaga ako!"" data-url="https://www.pep.ph/guide/mmff/14916/chanel-latorre-traumatized-by-rape-scene-with-kristoffer-king-for-indie-film-maratabat-binalibag-tal" data-desc="Although Maratabat will feature a bloody massacre, the stars and director reiterate that this is not related to the Maguindanao/Am" data-image="https://contents.pep.ph/images2/guide/4844faf0b.jpg"> Maratabat: "Binalibag talaga ako!"" data-url="https://www.pep.ph/guide/mmff/14916/chanel-latorre-traumatized-by-rape-scene-with-kristoffer-king-for-indie-film-maratabat-binalibag-tal" data-desc="Although Maratabat will feature a bloody massacre, the stars and director reiterate that this is not related to the Maguindanao/Am" data-image="https://contents.pep.ph/images2/guide/4844faf0b.jpg"> Maratabat: "Binalibag talaga ako!"" data-url="https://www.pep.ph/guide/mmff/14916/chanel-latorre-traumatized-by-rape-scene-with-kristoffer-king-for-indie-film-maratabat-binalibag-tal" data-desc="Although Maratabat will feature a bloody massacre, the stars and director reiterate that this is not related to the Maguindanao/Am" data-image="https://contents.pep.ph/images2/guide/4844faf0b.jpg"> Maratabat: "Binalibag talaga ako!"" data-url="https://www.pep.ph/guide/mmff/14916/chanel-latorre-traumatized-by-rape-scene-with-kristoffer-king-for-indie-film-maratabat-binalibag-tal" data-desc="Although Maratabat will feature a bloody massacre, the stars and director reiterate that this is not related to the Maguindanao/Am" data-image="https://contents.pep.ph/images2/guide/4844faf0b.jpg">