Now on its fifth year, the Metro Manila Film Festival New Wave category continues to showcase up and coming talents in the industry.

According to Chairman Francis Tolentino of the Metro Manila Development Authority (MMDA), "[Through the New Wave Series], we are laying the groundwork for more sustainable Philippine cinema."

Tolentino, who initiated the series in 2010, says that he envisions it to eventually be a cinema fair, a venue where various talents involved in different phases of filmmaking can come together in one venue to meet, share ideas, and eventually produce films of good quality.

(View photos: Metro Manila Film Fest 2014 launches New Wave entries)


This year, the finalists for the various categories in the competition were unveiled. Under the full feature category: Gemini directed by Ato Bautista; M. (Mother's Maiden Name) directed by Zig Dulay; Magkakabaung directed by Jason Paul Laxamana; Maratabat directed by Arlyn dela Cruz and Mulat directed by Maria Diane Ventura.

The New Wave finalists will be screened as a prelude to the opening of the 40th edition of the Metro Manila Film Fest. The entries will be screened until December 24, 2014 at Glorietta 4 and SM Megamall cinemas.

For the price of one ticket, each moviegoer has the chance to watch a short film and an animated short prior to the screening of the full-length entry.


Under the student short film category, the finalists are: Ang Soltera by Michelle Soriano of the De La Salle Lipa; Bimyana by Kim Zuñiga of the De La Salle-College of St. Benilde; Kalaw by Immy Rempis of the Asia Pacific Film Institute; Kubli by Regine Ynieto of the Far Eastern University; and Siyanawa by Gio Alpuente of the Southern Luzon State University (Main Campus).
Under the animation category, the entries are: An Maogmang Lugar by Mary Ann Espedido, Ateneo de Naga University; Cherry by Dustin Uy, Yawp! Studio; Gymsnatch by Eric Dequitos, School of Design and Arts, College of St. Benilde; Isip-Bata by Eugene Ceriola and Keith Bercero, Alibata Productions; and Shifter by Jerico Valentino C. Fuentes.
MMFF 2014 NEW WAVE ENTRIES
FULL-LENGTH ENTRIES:
Gemini
Produced by: Black Swan Pictures
Directed by: Ato Bautista
Screenplay by: Shugo Praico
Starring: Sheena McBride, Brigitte McBride, Mon Confiado, Alvin Anson, Lance Raymundo, and Sarah Gaugler.
Heavily influenced by American director David Lynch, young filmmaker Ato Bautista has been known to produce thrillers.

Gemini is a psychological thriller that tells the story of Julia, who is in psychiatric care, tormented by demons, both real and imagined. She seeks help from police detective Manuel (played by Mon Confiado) to save her from her evil twin, Judith. A crime that they committed many years ago comes back to haunt her.

"The film is very complex. 'Yung role ni Lance [Raymundo], madaming beses na makikita na iba-iba," Bautista reveals.
Identical twins Sheena and Brigitte McBride provide mirror-images of each other but also counter-points. As Bautista narrates: "For a long time, my writer and I had a material for twins. There's something weird about twins, may mga di pa ginagawa dito sa Pilipinas about twins, that sort of genre." He says that, given a chance to make more films, this could be the start of a horoscope series.
"I love watching thrillers and I love making them," says the director behind the psychological thriller Blackout (2007).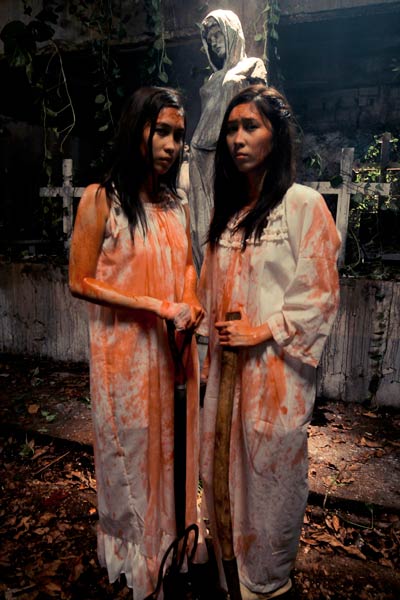 Twin sisters Brigitte (left) and Sheena McBride are lead stars of Gemini
M. (Mother's Maiden Name)
Produced by: Eight Films
Written & Directed by: Zig Dulay
Starring: Zsa Zsa Padilla, Nico Antonio, Gloria Sevilla, Sue Prado, Marx Topacio, Dennis Padilla, Micko Laurente, and P-Chie Reposo
Zsa Zsa Padilla showcases her dramatic chops as a stern single mother battling pancreatic cancer. Madame Bella, a lawyer and law firm senior partner, asks her son Joven (played by Nico Antonio) to be beside her during the ordeal. The relationship between the estranged mother and son evolves as they seek help from a state-of-the-art hospital in Singapore to a secluded sitio with a mysterious albularyo.

M was shot in different locations from Singapore to Baguio to Zig Dulay's home province of Isabela.

Director Zig Dulay openly admits that this film is inspired by real-life events surrounding his late mother.

In an exclusive interview with PEP.ph (Philippine Entertainment Portal), he narrates how he had to bring his ailing mother from their house in the barrio to the capital of Santiago City to a private hospital because the government hospital was ill-equipped. When they arrived there, they are are dismayed to learn that they had to pay upfront before any medical attention was paid them.

"Buti na lang may dala akong pera, e, kung wala? Paano yung mga taong may sakit na bibiyahe nang malayo para magpagamot pero walang dalang pera?" He also lamented how every stage of treatment required money to be paid before any was administered.
The movie is about mothers, a variety of them, as portrayed by Zsa Zsa Padilla, Gloria Sevilla, and Sue Prado. "It asks the question: how well do you know your mother?" says Dulay about his film, which espouses the belief that one's identity stems from one's middle name.
Written and directed by Zig Dulay, M centers on Madame Bella (Zsa Zsa Padilla), a single working mother who is battling cancer. The film offers an insightful commentary on the disparity of the medical treatments available in the Philippines where there is a deep chasm between the rich and the poor. The drama film M vacillates between social awareness and melodrama tropes steered by Zsa Zsa's delicate performance.
M. (Mother's Maiden Name) was an official entry to the 2014 Hawaii International Film Festival, held from October 30 to November 9.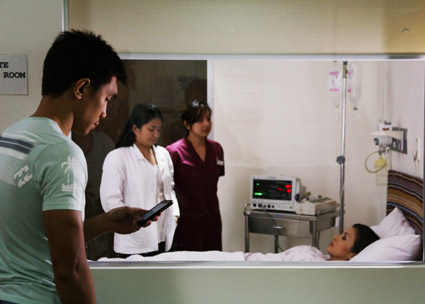 Zsa Zsa Padilla's character is diagnosed with Stage 4 pancreatic cancer in M (Mother's Maiden Name)
Magkakabaung (The Coffin Maker)
Produced by: Ato Entertainment Productions
Written & Directed by: Jason Paul Laxamana
Starring: Allen Dizon, Gladys Reyes, Emilio Garcia, Chanel Latorre, Bor Ocampo, and Felixia Dizon


Set in Pampanga, Magkakabaung tells the story of Randy (Allen Dizon), a coffin maker. The woodworking industry in the province is well-known and this sets the backdrop for the movie. Randy is a neglectful father and his misdeeds eventually lead to the death of his eight year-old daughter. Wracked by guilt, he must come to terms with his remorse over his responsibility for her death. He goes through a difficult process of burying his child and dealing with the question of how he will move on.
This film allowed Allen to win his first international Best Actor award during the 9th Harlem Film Festival held in New York, USA.

The actor also earned another Best Actor award during the 3rd Hanoi International Film Festival held recently in Vietnam.

(Read movie review: Allen Dizon gives gut-wrenching portrayal of guilt-ridden father in Magkakabaung)

(View photos: Allen Dizon beats Hollywood actor Ralph Fiennes at Hanoi IFF)

Allen Dizon with real- and reel-life daughter Felixia



Maratabat (Pride and Honor)
Produced by: Blank Pages Production
Written & Directed by: Arlyndela Cruz
Starring: Ping Medina, Julio Diaz, Kristoffer King, Richard Quan, Chanel Latorre, Shyr Valdez, Alvin Fortuna, Carlo Cruz, and Ms. Elizabeth Oropesa
As members of warring clans Mahardikas and Abubakars, the characters of Ping Medina and Julio Diaz come head to head as the former challenges the latter.

Ping is cast as Ronwaldo Mahardika who is being pressured by people to run for public office in order to end the long-time reign of ruthless governor Salvador Abubakar (played by Julio).

As the clan war continues to rage on, there is a violent and bloody massacre that seems to ripped from today's headlines.

Rido, as the clan war is called, runs deep in their culture—is there a way to peace?
Though it would be easy for the general public to assume that this political drama is a retelling of the events surrounding the Maguindanao massacre, the veteran broadcaster says her maiden venture into filmmaking is "100% fiction, but the circumstances are real. It is based on real events, yet, I made it up."
Dela Cruz, who was taken hostage in 2002, says that in the Muslim culture in Mindanao, culture and faith are closely knitted. "Gusto kong basagin ang paniniwala na sila ay mararahas na tao. They, too, are looking for a way to peace in their community."
Going back to the association with the Ampatuan massacre, dela Cruz says: "I don't mind [that the association is made], because it happened. If this film will make them remember that on November 23, 2009, something that horrific happened, then that is my contribution."

Maratabat, which is Tausug for pride and honor, is equivalent to one's reputation. The locals will do anything and everything to "save face."
In a separate interview with PEP, Chanel Latorre opened up about the "violent" rape scene that she shot for Maratabat. In the film, she plays Ping's wife who is raped by the character of Kristoffer King.

(Read: Chanel Latorre "traumatized" by rape scene with Kristoffer King for indie film Maratabat: "Binalibag talaga ako!")
The cast members spent two weeks shooting the film in Sultan Kudarat and Maguindanao.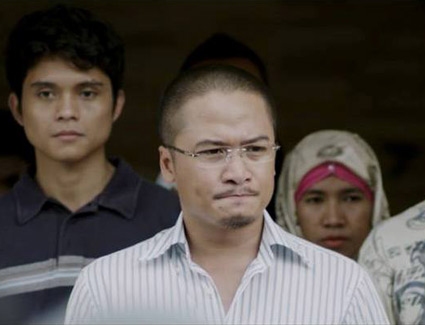 Ping Medina as Ronwaldo Mahardika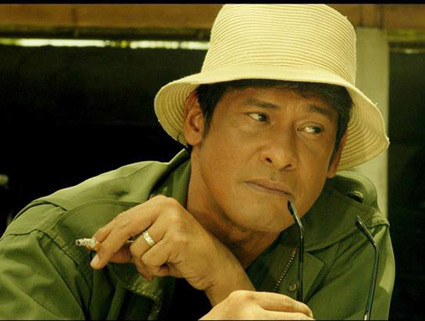 Julio Diaz as ruthless governor Salvador Abubakar




Mulat (Awaken)



Produced by: DVeut Productions
Written and Directed by: Maria Diane Ventura
Starring: Jake Cuenca, Loren Burgos, and Ryan Eigenmann
Sam (played by Loren Burgos) is caught between her fiancé Vincent (played by Ryan Eigenmann) and a new man, Jake (played by Jake Cuenca). She is disturbed by hallucinations and she begins to question many things around her. Moviegoers will also question their preconceived notions as the movie promises a big twist towards the end.

Director Diane Ventura describes the story of Mulat as the evolution of love, how a person is different from one relationship to the other, and how baggage from the past affect present. She says the germ for the story was planted after she had a conversation with a friend on the subject, and she started writing the script, that was at first, intended to be a short film.
It is a love story that she has chosen to tell in the psychological thriller genre. "I havelong been fascinated with the mind and its afflictions; by the power of the mind," Ventura says. She has read about psychosis and psychotherapists, and in the course of doing research, even consulted one.
"Everyone has gone through something and has some sort of issue. Just take a chance," Ventura says.
During the 2014 International Film Festival Manhattan (IFFM) held in New York, Ventura won Best Director for a Global Feature and Jake Cuenca, Best Actor in a Feature.

(Read: Jake Cuenca, Liza Diño named Best Actor and Best Actress at IFFM in New York)




Jake Cuenca's character falls for a woman with a mysterious affliction played by Loren Burgos



SHORTS
Ang Soltera
Directed by: by Michelle Soriano
Starring: CreceeRoldan and Melvin Llubit
Bimyana
Written & Directed by: Kim Zuñiga
It tells the story of the Bimyana, a young Aeta girl, who shows much potential but faces challenges at home, in school, and through a mythical spirit. It deals with the plight of the indigenous peoples.
Kalaw

Written & Directed by: Immy Belle Rempis
A nostalgic drama that looks at the role of the past in shaping our present, and how the future lies in coming to terms and healing the wounds of long ago.
Kubli
Written & Directed by: Regine Ynieto
Starring: Danny Bendanillo, Alice Neri, Ingrid Villamarin, and Ann Reyes
Siyanawa
Directed by: Gio Alpuente
This suspense thriller tells the story of Rosa, who tries to find solace in through faith and religion through a haunting past. But circumstances and forces may be working against her.
ANIMATION
AnMaogmang Lugar
Directed by: Mary Ann Espedido
It tells the story of Nesto and Verga and their love that endures beyond a lifetime.
Cherry
Directed by: Dustin Uy
Cherry tells the story of man's best friend--a dog's unconditional love.
Gymsnatch
Directed by: Eric Dequitos
Isip-Bata
Directed by: Eugene Ceriola& Keith Bercero
It is a short animation about different Philippine games and the people that play them.
Shifter
Directed by: Jerico Valentino C. Fuentes
Shifter is set in the not-so-distant future. It is an action-packed adventure.
As a prelude to the 40th Metro Manila Film Festival, the New Wave entries will be screened until December 24, 2014 at Glorietta 4 and SM Megamall cinemas.