The 2016 Metro Manila Film Fest entry Saving Sally tells a familiar story in a unique way.
Sally and Marty, two best friends, are regular teenagers in this romantic sci-fi fantasy movie.

Marty (Enzo Marcos) is in love with Sally (Rhian Ramos) but is too afraid things will change between them if he tells her the truth. Their story becomes complicated when bad boy Nick (TJ Trinidad) enters the picture. Nick is brave enough to court Sally, and eventually wins her heart. Sally then goes against the unreasonable rules of her strict parents to be with Nick.

At some point, Marty even acts as a bridge between the two.
The story line is so simple that it's not until a few minutes into this film directed by Avid Liongoren that you actually understand the unique way in which the story is being told.

Saving Sally combines real actors with animation, and while shooting actors against a blue screen and combining live action with animated elements is nothing new, you'll need to watch closely to appreciate how Saving Sally makes use of it to tell a typical story in an interesting way.
As far as Marty is concerned, most people around him are monsters, from the bullies in school to the people he passes by on the street. And that is exactly how viewers will see them: as different kinds of ugly monsters.

In scenes where Marty is shown looking forlorn especially when he gets jealous of Nick, watch out for wall graffiti that says "wawa" (for "kawawa") or "selos."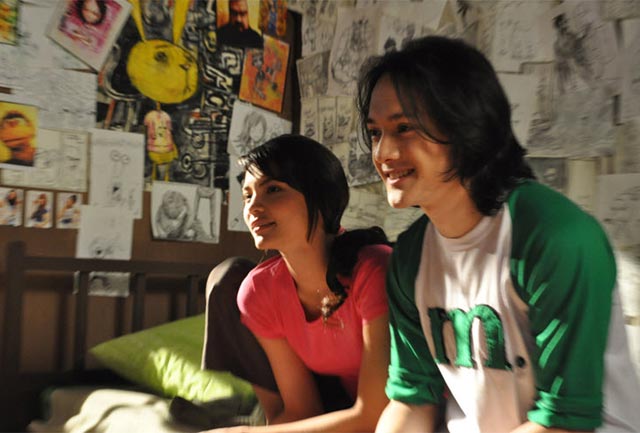 If you pay enough attention, you'll see how animation is used to exaggerate emotions, be it a fit of anger or overwhelming love.
The fact that even mundane store signs or prints on Marty's signature shirt, which you'll only see for a few seconds are funny, witty, and telling of the ongoing scene shows how much the production team painstakingly crafted each detail.

Equally amusing are the gadgets—in animation, of course—that Sally uses to make her house chores easier. (Small wonder then that it took 10 years for director Liongoren to finish this film.)
Most of the dialogue in this MMFF 2016 entry is delivered in English—a fact that may discourage some from watching the movie.

However, Rhian and Enzo are able to deliver their lines so casually and naturally, with none of the kolehiyala-slash-conyo English twang that may irritate viewers.

A few Filipino lines make their exchanges even more natural—and the setting (Marty lives in a simple house on what looks like an old street in Manila), more believable.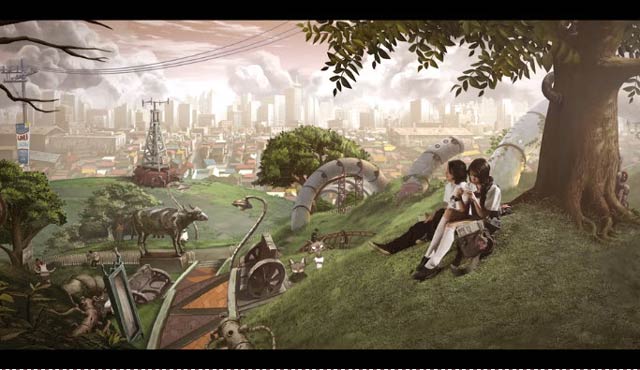 Guaranteed to draw out some laughs is Bodjie Pascua, who plays Marty's super cool dad. Kontrabidas Shamaine Buencamino and Archie Adamos, although their appearances were brief, held up the movie as well.

Peejo Pilar's acting as Marty's meticulous comic book publisher seems deliberately exaggerated, serving as a welcome comic relief just when everything in Marty's life seems to be falling apart.
The making of Saving Sally spans 10 years, and how director Liongoren's team forged on despite countless obstacles in production is mirrored in how Marty also never gave up on his love for Sally.

We won't spoil the ending for you (but we do suggest you stay until the end of the credits), but "Awwww!" might be just one of the mix of syllables and letters that may come out of your mouth after seeing the movie.
Saving Sally is the kind of film that grows on you—if you give it a chance.

Here's hoping that MMFF viewers will give a chance to this Pinoy movie that combines live action with 2D animation.


(To stay updated about the latest news about the MMFF, visit http://www.pep.ph/guide/mmff)


Ed's Note: The "PEP Review" section carries the views of individual reviewers, and does not necessarily reflect the views of the PEP editorial staff.