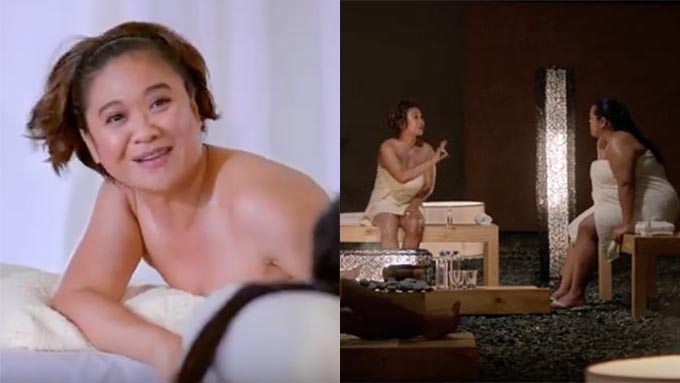 IMAGE Official trailer of Ang Babae Sa Septic Tank 2 #ForeverIsNotEnough
---

With movies that have a sequel, sometimes there is one—the first or the second movie—that pales in comparison. Such is not the case for Ang Babae Sa Septic Tank and Ang Babae Sa Septic Tank 2 #ForeverIsNotEnough.
Ang Babae Sa Septic Tank 2 #ForeverIsNotEnough directed by Marlon Rivera does not depart from the first Ang Babae Sa Septic Tank movie, which was a huge, award-winning success. If you thought well of the first one, you'll like this latest version that comes with a few upgrades.
The opening and closing scenes as well as those that come in between follow almost exactly the same sequence and the same format. There are no surprises: As in the first movie, Ang Babae Sa Septic Tank 2 #ForeverIsNotEnough starts with a narration of the script of an upcoming movie, The Itinerary.

Majority of the movie features discussions among Direk Rainier (Kean Cipriano), producer Jocelyn (Cai Cortez), and newbie production assistant Khalil Ramos (Lennon).

Eugene Domingo, as an exaggerated version of herself, interjects with her suggestions on how to make their new movie better. We leave it to you to figure out the ending.
ADVERTISEMENT - CONTINUE READING BELOW
Despite using the same old formula for the sequel, the movie sees Eugene at her best, never appearing self-conscious about purposely overacting or contorting her body to deliver her exaggerated lines. Her character, Eugene Domingo, becomes as real as it could ever be, and develops into someone who is now more involved in the production of her new movie. She is able to pitch in more of her (outrageous) ideas: a younger leading man, a gay best friend, a theme song, among others.
Kean's portrayal is a revelation. He shows a more personal side of his character as he shares that the movie they are about to make is inspired by the story of his crumbling marriage. This time, he is not out to make an award-winning film, but one that recreates his own love story and hopefully brings it back to the way things were.
Cai, whose character is now promoted to producer, finally gets her turn to shine (she played the production assistant in the first movie). She is the voice of reason when Direk Rainier and Eugene start to clash; her timing is impeccable as she delivers those punchlines right when they're needed.
ADVERTISEMENT - CONTINUE READING BELOW
It goes without saying that the leading men—Joel Torre and Jericho Rosales, who alternate as Eugene's leading man Cesar—bring different things to the table. Joel is the seasoned actor who takes no insults from anyone, while Jericho is the heartthrob most suited for kilig scenes and the parts where he literally begs Eugene's character Romina to stay with him.
Beyond the superb cast, Ang Babae Sa Septic Tank 2 #ForeverIsNotEnough tackles a relevant issue that has created a lot of buzz during this year's Metro Manila Film Festival (MMFF). Between Eugene and Direk Rainier, there is a constant battle between commercial movie and indie film inputs, and what sells and what doesn't.

Without being preachy, Ang Babae Sa Septic Tank 2 #ForeverIsNotEnough serves as an eye opener about the diversity of movie audiences, and that the conflict between commercial value and film quality is one that is not impossible to resolve over a period of time.


ADVERTISEMENT - CONTINUE READING BELOW
(To stay updated about the latest news about the MMFF, visit http://www.pep.ph/guide/mmff)

Ed's Note: The "PEP Review" section carries the views of individual reviewers, and does not necessarily reflect the views of the PEP editorial staff.



---
Stories We Are Tracking
---