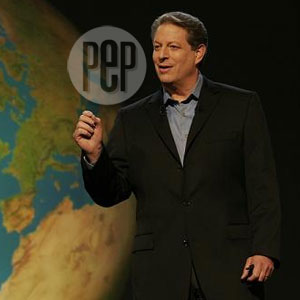 ---
From director Davis Guggenheim comes the Sundance Film Festival hit, An Inconvenient Truth, which offers a scientific look at man's role in the environment. In this riveting educational film, former US vice-president Al Gore explains the science and facts behind climate change and how it's not too late to mitigate this impending global disaster.
The impact of global warming has become evident in the worsening weather conditions that the nations of the world are experiencing today. For the past few years, scientific records will show that storms are getting stronger, floods and droughts are occurring in places where none used to be, and the effect on the ecological balance is catastrophic and, worse, irreparable. The key to battling the war on global warming is understanding the problem.
For years now, many scientists have been blowing the whistle on carbon dioxide, causing the frightening but largely ignored reality of global warming. As carbon dioxide is released in the air, it traps the sun's heat like a thick blanket. When this happens, the planet warms up, resulting in not just super typhoons (such as Reming and Milenyo in the Philippines)---but also droughts (such as those that affected Africa), heat waves (Europe and India in 2003 that annihilated at least 30,000 people), outbreaks of strange and fatal diseases (think bird flu and SARS), and even hurricanes (Hurricane Katrina hit the United States in August 2005).
Scientists say that unless we curb global warming emissions, average temperatures could rise by 3 to 9 degrees soon.
Since last month, SM cinemas nationwide have been exclusively showcasing An Inconvenient Truth, a powerful and informative movie that is rated G (for General Audience) and runs for 1 hour and 36 minutes.
An Inconvenient Truth screens at SM City Sta. Mesa and SM City San Lazaro on December 13 to 19; and at SM City Cebu and SM City Clark on December 20 to 24.
ADVERTISEMENT - CONTINUE READING BELOW