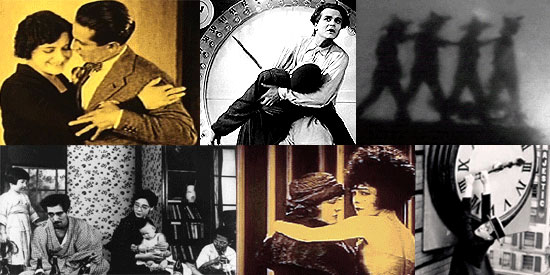 ---
The amalgamation of old silent pictures and live contemporary music happens again this year at the 6th Silent Festival Film Festival that will run from August 24 to 27 at the Shangri-La Cineplex.
The international silent-movies-and-music fete has turned out to be an annual gathering of art, music, culture, and music enthusiasts since it began in 2007. On its sixth run, the Silent Film Festival presents a line-up of classic films from Germany, Spain, Japan, Italy, the Philippines, and the USA—all to be accompanied by live music from OPM bands.
At the press conference held on August 15, Filipino filmmaker Raymond Red stressed the significance of the festival, which is in fact the only silent film event in Asia.
"We cannot emphasize enough that it is a very unique experience. I would even dare say that today, watching and viewing silent movies, in the way they were presented with live music, is an art form in itself."
Red, who earned accolades for his Super 8 short films from 1983-1985, added that cinema has expanded today.
"The audience participates in a very different way, from how we absorb visuals and sound today on the internet, or DVD, or cable, or satellite TV, or what have you… or even just staring at these billboards in EDSA, these electronic billboards… the things you watch on your cellphone is cinema now!"
According to the veteran filmmaker, the festival will inform the younger generation—which comprises a huge part of the festival's audience yearly—about the roots of cinema, making them aware of the importance of the cinema heritage.
"Whether they appreciate it or not," stated Red, "the experience is just so unique. It's a very rare opportunity, there are not many festivals like this.
"So they should really take advantage of coming to the festival and seeing these films."
ADVERTISEMENT - CONTINUE READING BELOW
SILENT PICTURES AND CONTEMPORARY MUSIC
Germany's iconic Metropolis (1927) will serve as the opening film on August 24, Friday, at 3:00 pm. The Fritz Lang-directed movie features a fictional city ruled by tycoon Johann Fredersen. It is a world where the working class labor beneath the earth and the rich live in high-rise buildings. When the ruler's son falls in love with a lady from the underworld, conflict arises. The live dance music of Rubber Inc will apply its modern and electronic techniques to bring life to the film.
Spain's La Casa De La Troya will be screened on August 25, Saturday, 7:00 pm. La Casa de la Troya refers to a student dormitory where an aspiring law student named Fernando meets the Galician girl named Carmen. As the two fall in love with each other, Carmen's aunt becomes a hindrance to their affair. Filipino band Sinosikat? and Spanish live-scorer Ignacio Plaza provide music to this romantic comedy.
Japan's I Was Born, But…tackles middle-class family life, specifically a relationship between father and son. The heartwarming comedy-drama, directed by minimalist filmmaker Yasujiro Ozum, will be shown on August 25, Saturday, 7:00 pm, as Tropical Depression provides reggae sounds to the silent picture.
Italy's La Signora delle Camelie is a tragic love story of courtesan Marguerite Gautier and provincial bourgeois Armand Duval. Aiming to move and "make the audience cry," OPM band Garlic also intends to express the emotions of the lead characters through their music. The silent film will be screened on August 26, Sunday, 4:00 pm.
The Philippines's Eternity (or Magpakailanman), produced and directed by Raymond Red in 1983, depicts the haunting nightmares of a man. The 6 p.m. screening on August 26, Sunday, will be followed by Red's 5-minute short visual Pelikula. Musician Diwa de Leon of the Makiling Ensemble will be performing solo using a hegalong, a Maguindanoan/Palawaneño musical instrument.
ADVERTISEMENT - CONTINUE READING BELOW
Finally, the American silent film Safety Last will conclude this year's repertoire. This year marks the first time that the U.S.A. has taken part in the Silent Film Festival. The American delegate chose this movie starring Harold Lloyd, who is considered to be one of the most popular and influential film comedians of the silent film era. The film revolves around a store clerk who organizes a climbing contest outside a tall building but ends up making the dangerous climb towards the end of the narrative. OPM's Radioactive Sago Project will offer a unique fusion of music when the silent picture is screened on August 27, Monday, 7:00 pm.
Catch this year's Silent Film Festival happening at the Shangri-La Cineplex from August 24 to 27, 2012.
6th Silent Film Festival Schedule:
August 24, Friday
7:00 PM Metropolis (Germany) ft. Rubber Inc.
August 25, Saturday
3:00 PM La Casa De La Troya (Spain) ft. Sinosikat?
7:00 PM I Was Born, But… (Japan) ft. Tropical Depression
August 26, Sunday
4:00 PM La Signora Delle Camelie (Italy) ft. Garlic
7:00 PM Max Tessier and Raymond Red will give a talk on "The Heritage of Silent Cinema"
7:30 PM Eternity and Pelikula (Philippines) ft. Diwa De Leon
August 27, Monday
7:00 PM Safety Last (USA) ft. Radioactive Sago Project