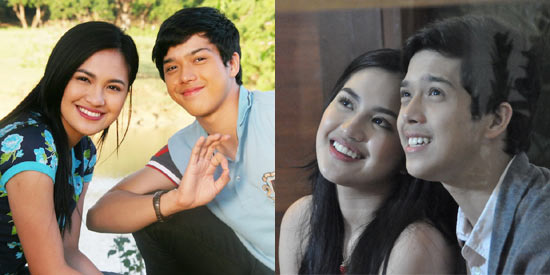 ---
In Just One Summer, a young man must rekindle a relationship with a father whom he has grown to hate. Finding love will help him do that.
Produced by GMA Films and directed by Mac Alejandre, Just One Summer is a vehicle for GMA-7's popular loveteam JuliElmo, composed of young actors Julie Anne San Jose and Elmo Magalona.
Supporting them are respected actors Alice Dixson, Cherry Pie Picache, Joel Torre, Buboy Garovillo, and Gloria Romero.
Elmo Magalona plays Daniel, an independent but snobbish young man who plans to take up medicine in the United States. He has problems filling up a consent form from his parents, however, since his parents are separated but not yet annulled.
Only his mother Irene (Alice Dixson) is living with him. His father Dan (Joel Torre) requires him to spend the summer in his farm before he signs the annulment papers and the consent form.
ADVERTISEMENT - CONTINUE READING BELOW
Left with no choice, Daniel reluctantly comes to the farm, planning to ignore his father all through his stay. Wanting to connect with his son, Dan employs Beto (Julie Anne San Jose) to befriend Daniel.
For her part, Beto just lost a scholarship, so she accepts the job that can pay for her tuition.
At first, Daniel is oblivious to Beto's attraction to him. But when problems with his father escalate, he takes solace in the young girl's ready arms.
But is this love only a summer fling, or is it more than that?
The most obvious comment one can say about Just One Summer's plot is that it is too formulaic. It closely copies the stories of earlier romantic movies and TV shows.
In fact, one cliche you can see here is the couple's chaotic first meeting. Here, Julie Anne's character vomits on Elmo's shirt after a long car ride. Yes, you have seen this before.
ADVERTISEMENT - CONTINUE READING BELOW
But all of this happens in picturesque locations, so the story still feels fresh. Good location scouting and production design do help the movie here.
We must commend the performances of the cast of this movie. It is easy to see why JuliElmo is making waves as a young loveteam.
They have palpable chemistry onscreen, and their acting skills are decent for their age.
And what shortcomings the two lead characters have in the acting department are compensated for by the excellent portrayals of the supporting cast.
It has always been a good decision to cast award-winning senior actors as support to up-and-coming young stars. The seniors provide the gravitas and the credibility, the young stars provide the romantic shakes and draw in the crowd.
Still, you feel that better casting decisions could have been made for the minor cast. Other minor roles seem severely underdeveloped, and could have been done away with.
ADVERTISEMENT - CONTINUE READING BELOW
Sef Cadayona's role as Beto's probinsyano admirer is one of these.
One major plot point is also forgotten: were Beto's scholarship and tuition money problems eventually resolved? A big fuss was made about this throughout the movie, so it's unclear why this is not in the plot's resolution.
But perhaps this does not matter? Because Beto finds true love. Her future is set.
Just One Summer, graded B by the Cinema Evaluation Board, is now showing in cinemas nationwide.
Ed's Note: The "PEP Review" section carries the views of individual reviewers, and does not necessarily reflect the views of the PEP editorial team.