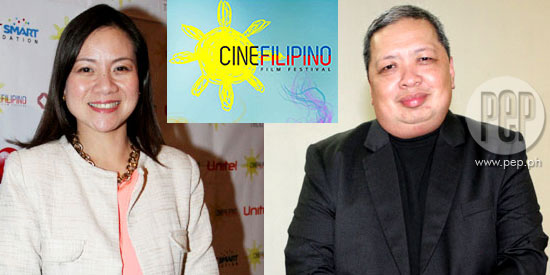 ---
In recognition of the growing breed of talent in independent filmmaking, the CineFilipino Film Festival was launched as a joint advocacy of the PLDT-Smart Foundation, MediaQuest, Studio 5, and Unitel Entertainment.
Seeking to highlight Filipino talents, this new film fest is now open to both filmmaking neophytes and established directors and producers who are encouraged to submit original screenplays depicting "the human experience through a Filipino perspective."
The organizing committee will select 8 filmmakers who will be given P1.5 million worth of production grant each, for the festival's Feature-Length Filmmakers Section.
A second category, the Short Filmmakers Section, is open to student filmmakers who may submit their completed short films. 10 student filmmakers will be shortlisted together with the selected 8 for the Feature-Length Filmmakers Section. The festival will run from March 13 to March 19, 2013.
"We just want something really original… fresh in terms of the storytelling. We want an authentic reflection of the Filipino experience. We also want something that would engage the audience," states festival director Vincent Nebrida during the August 17 launch of CineFilipino. He is organizing this new film fest, which is also headed by PLDT-Smart Foundation president Esther Santos.


Nebrida also announced that the submission of screenplays for the Feature-Length will start this month until October 8, 2012. Meanwhile, the festival will be accepting short films for the second category from September 18, 2012 to December 31, 2012.
THE GENESIS OF CINEFILIPINO
CineFilipino, prior to being turned into an independent film contest, is a 6-year-old label under Unitel Entertainment that restores classic Filipino movies into digital releases. These include works by Lino Brocka, Ishmael Bernal, Mario O' Hara, and Marilou Diaz- Abaya.
The existing catalog of restored movies comprise of Makiusap Ka sa Diyos, Cain at Abel, Ina Kapatid Anak by Brocka; Relasyon, Pahiram ng Isang Umaga, City After Dark, Tinimbang Ka Ngunit Kulang, and Insiang by Brocka; Karnal by Abaya; also Chaning Carlos' Jack en Jill, which stars Dolphy and Lolita Rodriguez; Chito Rono's Laro sa Baga and Babae sa Bintana; and Joey Reyes's Makati Avenue.
ADVERTISEMENT - CONTINUE READING BELOW
Filipino movies such as Crying Ladies, 100, La Visa Loca, Santa Santita, Magnifico, also Ang Pagdadalaga ni Maximo Oliveros, are among independent films that have been released in DVD format, likewise showcased abroad.
The idea of turning CineFilipino into an independent film festival came about when TV5's top honcho, Atty. Ray Espinosa, pitched the idea to Unitel chief Tony Gloria. According to Nebrida, the two heads were encouraged and inspired by the advent of digital technology and the budding talent in independent filmmaking.
The festival director adds that the influx of independent films marks another golden year for Philippine cinema, hence the urge to open a film festival apart from the annual Cinemalaya Independent Film Festival and the Cinema One Digital Originals Film Festival.
What the CineFilipino Film Festival offers—a seed money of 1.5 million pesos per grant recipient—is by far the greatest production grant that a film festival bestows to filmmakers in the country. While Cinemalaya gives a grant of P500,000, Cinema One grants P1 million pesos to its finalists.
To know more about the festival mechanics and to download the application form, visit www.cinefilipino.com