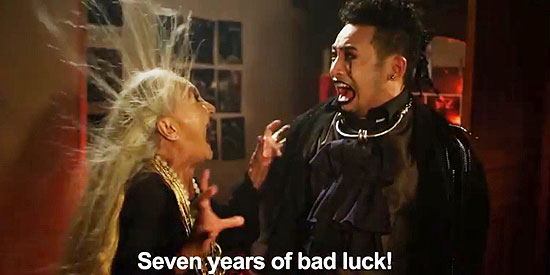 ---
In less than ten minutes, Oh My Goth! creatively illustrates how an individual is hindered by superstition from living life to the fullest.
Through his signature comedic style, award-winning scriptwriter and filmmaker Chris Martinez juxtaposes the outlandish characters of Lilia Cuntapay, who portrays an eccentric and very traditional woman, and her youthful goth of a grandson, played by Ketchup Eusebio, whose edgy lifestyle clashes with his grandmother's penchant for superstition.
Oh My Goth! presents scenarios where the grandmother scares the hell out of her grandson whenever he accidentally does something to (supposedly) attract bad luck.
The intensity of the scenes incites suspense, especially when horror flick mainstay Lilia Cuntapay creeps up on Ketchup in Regal Shocker fashion to admonish him for inviting "malas."
The effects, sound, and production design prove valuable in arousing fear. Both actors are effective in portraying their characters—Ketchup living in constant fear; Lilia (still in top form in this genre) scaring the living hell out of people.
The latter part of the short film makes a 180-degree turn. It quickly jumps from the dark, Regal Shocker setting to a bright and sunny background complete with flowers and chirping birds.
This is when the short film feels contrived and turns into a TV commercial where the lola-and-apo tandem deliver an endearing scene.
Lola tells apo, "Ayoko pang mamatay. Hindi pa tapos ang mission ko—hindi kita puwedeng iwan mag-isa!"
Apo, meanwhile, expresses the moral of the story, "Ang kapalaran ng tao, nasa pagsisikap 'yan."
Oh My Goth! is able to deliver its message made memorable through its entertaining mix of comedy, horror, and feel-good drama.
This short film is part of the Sun Shorts collection made possible by the regional short film project called Experience the Sun, a collaboration between Sun Life and filmmakers in Hong Kong, Indonesia, and the Philippines.


(CLICK HERE to watch the short film Oh My Goth!)


SUN SHORTS is presented by Sun Life Financial in collaboration with Unitel Productions, Inc., Cinema One, Star Magic, and the Sun Life Foundation. For more information, visit www.experiencethesun.com.ph


ADVERTISEMENT - CONTINUE READING BELOW

Ed's Note: The "PEP Review" section carries the views of individual reviewers, and does not necessarily reflect the views of the PEP editorial team.