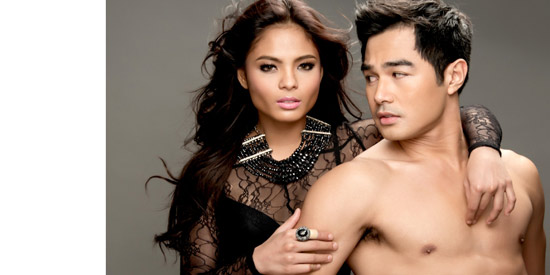 ---
There's a large ambition behind Guni-Guni, the horror movie of Regal Films, which is currently being screened nationwide.
It is directed by Tara Illenberger, who previously helmed the critically acclaimed Cinemalaya entry Brutus.
Guni-Guni tries to express grand themes of isolation and loneliness, but it's up to the viewer to judge if the film is able to achieve this.
ADVERTISEMENT - CONTINUE READING BELOW
Guni-Guni tells the story of Mylene (Lovi Poe), a medical student who lives in a boarding house haunted by several spirits. But these ghosts are the least of Mylene's problems—it's a secret she is keeping that's causing her to lose her sanity.


Also living in the house are Joanna (Empress), Mylene's fellow medical student and psychic best friend; Tatay Nanding (Jaime Fabregas), a senile old man who owns the house; Mrs. Arevalo (Gina Alajar) a middle-aged drunkard who waits for her son to come back; and Vangie (Julia Clarete), the yaya of an autistic boy.
Mylene also has to interact with Paolo (Benjamin Alves), her boyfriend, whom she wants to break up with. Once, Paolo leaves Mylene in the middle of nowhere after she refuses to have sex with him.


The main issue with the film is that there are too many stories being told, and that they never really come together. What the film wants to do is to tell Mylene's story, but the many storylines create many threads that deviate from that plot.


What happens is that the film feels diluted. What power each story may have on its own is diminished by too many voices craving for the viewer's attention.


For instance, Gina Alajar's story could be developed further. Her character waits for the day when she can see her son again, watching days pass with the help of alcohol. But her appearances feel repetitive, merely copying what has been shown in previous scenes.


The movie's pacing also dilutes the movie's narrative power further. There are several twists in the story, but several directorial choices very early in the film already reveal these twists.
A seance session and a school lecture in the film's few minutes, for instance, already show the secrets that the characters might be keeping.


Viewers looking for scares can be satisfied by a few standout scenes that have not been done before in Philippine horror. Casual viewers will find them downright scary.

Fans of the movie's lead stars will also be happy with their idols' performances.
Lovi Poe delivers a daring performance, even posing nude in front of a mirror in one scene. Benjamin Alves and Empress show decent acting chops, even if their characters are under-utilized.

Guni-Guni has been graded B by the Cinema Evaluation Board and Rated R-13 by the Movie and Television Review and Classification Board.


This horror flick is currently being screened in cinemas nationwide.


Ed's Note: The "PEP Review" section carries the views of individual reviewers, and does not necessarily reflect the views of the PEP editorial team.