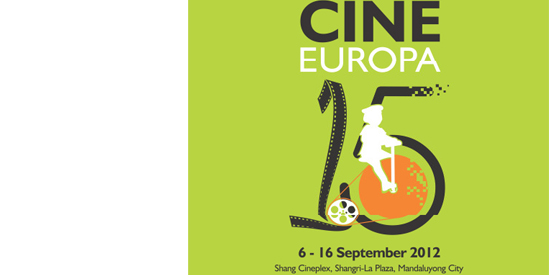 ---
From their humble beginnings of just 11 movies in 1998, Cine Europa has grown leaps and bounds over the past 15 years.
This year features 21 entries from 17 European countries, which include Austria, Belgium, Bulgaria, Czech Republic, Denmark, Finland, France, Germany, Italy, Netherlands, Romania, Slovakia, Spain, Sweden, Switzerland, United Kingdom, and Norway— a first-timer.
To highlight the latter's entry, Cine Europa will open with the Norwegian film Upperdog on September 5 at the Shangri-La Plaza.
A special screening was recently held for the members of the press, who were treated to Finnish comedy-drama Lapland Odyssey— which follows the misadventures of Janne. The main character was forced to face the reality of losing his wife over a digibox, through the course of a -15 degree Celsius night, and aided by two nearly-clueless friends.
It was also announced during the screening that "last year alone, we reached 24,000 Filipinos and we hope to make another leap this year," said EU Delegation to the Philippines Political Counsellor Julian Vassallo.
ADVERTISEMENT - CONTINUE READING BELOW
In partnership with the Film Development Council of the Philippines (FDCP), Cine Europa can now be experienced in three new areas: Baguio, Iloilo and Davao, where FDCP Cinemateques were established.
Of course, the film entries can still be seen in three other locations: Shangri-La Plaza, Ayala Center Cebu and Liceo de Cagayan de Oro.
That brings the presence of Cine Europa to a total of six cities over the span of six weeks from September 6 to October 21.
WHAT TO EXPECT. Most film selections, according to Vassallo, will have "happy endings."
He added, "As you may have noticed by now, European style of movies is less known for sugary moments..."
Their movies are instead marked by the absurd, humor, and the ironies of daily life or even sometimes used "as a torch to shine light on forgotten life."
This year's movies will take viewers from juvenile prison cells to Imperial China, youthful misbehavior to drama in an African refugee camp, and even the lovelife of a tramp.
ADVERTISEMENT - CONTINUE READING BELOW
From the pages of history, Leonardo da Vinci's flying machine comes to life while in another, a person starts seeing life through the eyes of a goat.
Vassallo also said the viewers will also get the chance to see the "madness of war and the genius of the slightly mad."

He put it nicely when he said the ultimate purpose of Cine Europa is to show viewers what makes "Europeans laugh, cry, and tick."

Vassallo is hopeful that film will work its magic and allow the Filipino people to better appreciate and understand the European view.

THE ENTRY OF PINOY FILMS. This year is also groundbreaking as four Filipino movies will also be screened during the festival dates.
At press time, it is unsure though if all six areas will feature all the 21European and four Filipino films.

Working for the first time with the Independent Film Cooperative (IFC) has paved the way for Cine Europa to feature non-European films for the very first time.
ADVERTISEMENT - CONTINUE READING BELOW
Vassallo explained that the four films were chosen based on their connections to life in Europe and their impressive award-winning pedigrees.
These films are: Paglipad ng Angel by Clodualdo del Mundo Jr., the documentary film Kano, 2009's most awarded film Bakal Boys, and MNL 143.

As always, all the movie screenings will be shown for free.
At the Shangri-La Plaza, Cine Europa officially opens to the public starting September 6 and ends September 16, then opens in Ayala Center Cebu by September 21 until September 24, before closing September in Liceo de Cagayan de Oro from September 27-30.
FDCP Cinemateque Davao will host Cine Europa from October 4-7, FDCP Cinemateque Baguio from October 11-14, before finally ending in FDCP Cinemateque Iloilo from October 18-21.