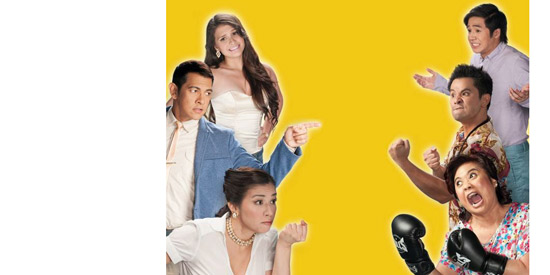 ---
I Do Bidoo Bidoo is a total charmer. It's a movie that knows how to please through its relatable story and high production values.
This musical film is a co-production of Studio5 and Unitel.
Unitel is the production outfit behind the excellent movies Crying Ladies (2003) and La Visa Loca (2005). Studio 5 produced the Metro Manila Film Fest entry Rosario (2010).
Directed by Chris Martinez, I Do Bidoo Bidoo has a familiar story. Young couple Rock Polotan (Sam Concepcion) and Tracy Fuentebella (Tippy Dos Santos) are planning to get married as soon as possible because the girl is pregnant.
But their parents are opposed to this. Rock's parents (Ogie Alcasid and Eugene Domingo) want their son to go abroad to work as a nurse, while Tracy's parents (Gary Valenciano and Zsa Zsa Padilla) don't seem to like Rock's poor family.
When a lunch meeting between the two parties ends in a fight, the young couple must choose between their love or their families.
While the story may be common, the way the film approaches it is not. Well-choreographed musical numbers help the film feel fresh, and the decision to use songs from the APO Hiking Society hike the nostalgia.
There is also a noticeable effort to avoid clunky exposition. There is no lengthy discussion of Tracy's wealth. Instead, there are subtle jokes about the number of gates and mansions in their property.
Production design is just as excellent. Every backdrop looks meticulously planned. Rock's room, for instance, has dozens of movie posters and other collectibles, and the house curtains are quilted from various rags. Tracy's house, on the other hand, has a dozen or more ballerina-styled maids who serve as interactive backdrops or synchronized dancers.
It is a great decision to cast actors who are actual singers. Leads Sam Concepcion and Tippy Dos Santos are brimming with talent, and their skills are maximized in their production numbers.
ADVERTISEMENT - CONTINUE READING BELOW
The rest of the cast are just as perfect. There could be no better actors to play their parents than Ogie Alcasid, Gary Valenciano, and Zsa Zsa Padilla, three of the country's top performers. Eugene Domingo is the only non-singer in the cast, but her commendable acting chops and box-office draw make up for this fact.
One negative factor that can be said is that the ending feels abrupt, because no solid build-up transitions to it.
Graded A by the Cinema Evaluation Board, I Do Bidoo Bidoo is now showing in cinemas nationwide.



Ed's Note: The "PEP Review" section carries the views of individual reviewers, and does not necessarily reflect the views of the PEP editorial team.