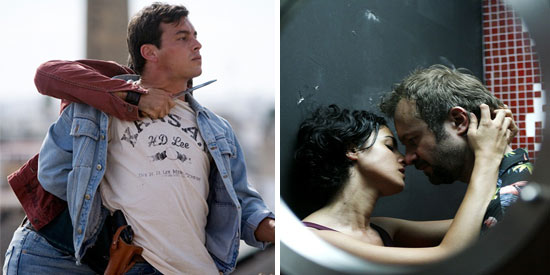 ---
The 11th Película Spanish Film Festival is off to a bright start as it presents more films from various regions of Spain from October 4 to 14, 2012, as well as exciting prizes for Filipino film aficionados.
The films in this year's selection include dramas, comedies, thrillers, and popular blockbusters from Spain and Latin America. For the first time, the Pelicula lineup also includes nine short films from the Basque region, "as Instituto Cervantes wishes to show the cultural diversity of Spain," said Spanish Ambassador Jorge Domecq.
The festival will kick off with an invitational screening of the Enrique Urbizu thriller No Rest For the Wicked (No habrá paz para los malvados) at Greenbelt 3, Cinema 2 on October 3.
Alongside the movie screenings at the Greenbelt 3 will be a meet-and-greet with renowned Spanish director Alberto Rodriguez on October 8. Rodriguez will present his film, Unit 7, a police action thriller that has been recently selected as the Spanish representative to this year's Academy Awards.
Another reason to look forward to this year's festival is the chance for moviegoers to win exciting prizes, most notably a free roundtrip ticket to Madrid, Spain courtesy of Qatar Airways. At the festival, the audience will be provided with a ballot for rating the movies they have watched. Seeing a minimum of five films will be necessary to submit a valid ballot as a raffle entry.
Instituto Cervantes has also partnered with the Film Development Council of the Philippines (FDCP) so that Pelicula can extend its reach to Davao, Iloilo, and Baguio City.
ADVERTISEMENT - CONTINUE READING BELOW

BRINGING PELICULA TO PROVINCES. During the opening night, FDCP Chairman Briccio Santos revealed plans to expand Película to Zamboanga and Bacolod in 2013. Here is the speech given by Mr. Santos during the opening night:


"I would like to congratulate Instituto Cervantes De Manila, the Embassy of Spain to the Philippines and all its partners and sponsors for the 11th installment of Película. The Film Development Council of the Philippines, through our Film Cultural Exchange Program, is proud to work with you again in bringing this brilliant line up of engaging films from Spain and Latin America to the Filipino people.
"Spanish narratives and sensibilities are close to us Filipinos as our cultural ties run deep. This connection is no more apparent than in our respective national cinemas. The depth of human experience and the unbridled passion of diverse characters are shared traits of our films.
"In the animated film Arrugas, of which twenty five percent of the animation was actually outsourced here in the Philippines, we witness the poignant friendship between two men in their old age. In the documentary film Jacques Leonard, el Payo Chac we follow the life and work of a photographer as cultural barriers are broken down and one reconnects with his roots. These stories are both interestingly strange and warmly familiar. That is why Filipinos, year in and year out, feel connected and consequently look forward to Película's offerings.
"This year for the first time, through FDCP's various Cinemateques all over the country, we will be bringing these films to more audiences. From Davao to Iloilo, Baguio to Marawi more Filipinos will get to see these captivating characters and compelling stories. And by its 12th run next year we look forward to bringing Película to our new cinemateques in Zamboanga and Bacolod as well.
ADVERTISEMENT - CONTINUE READING BELOW
"Cinema was brought to the Philippines by Spain. From the first projected moving images in Escolta to the first Filipino film productions inspired by zarzuelas, the connection between our Cinemas is as old as our Cinemas themselves. That is why it is but fitting that this festival partnership is just the beginning of bigger engagements between Philippine and Spanish Cinemas.
"For instance our Spanish colleagues have offered assistance in the repatriation of films to Spanish archives. For our part, we have recently subtitled 23 Filipino films in Spanish for Cine Experimental de Madrid so that our brothers and sisters in Spain and Latin America will get to witness our stories as well and open the Philippines through the corridor of film to the world.
"We hope to continue and strengthen our cultural and diplomatic ties through the power of cinema. Again, my congratulations to everyone and may the 11th run of Película be as successful as it has always been."
DARK FILMS AND COMEDIES. This year's Película will appeal to those who crave for darker, thought-provoking films, according to Jose Maria Fons Guardiola, Instituto Cervantes deputy for cultural affairs. Aside from No Rest For the Wicked and Unit 7, there is also Sleep Tight (Mientras Duermes), a horror story of a concierge feasting on his neighbor's lives, which will be featured at the midnight screening on October 6 and 12.
An interesting conversation full of sexual tension takes place in Madrid 1987 as an old journalist and a student get accidentally locked in a bathroom together. Even the animated film Wrinkles (Arrugas), takes a more dramatic turn as it focuses on life in a retirement home.
ADVERTISEMENT - CONTINUE READING BELOW
Still, the festival offers a good handful of comedies such as 18 Meals from Spain and Two Siblings and A Chinese Tall Tale from Argentina, which will be featured at the Argentinian Night on October 4.
Película will be open to the public from October 4-12, 2012 at the Greenbelt 3 Cinema 2. Tickets will be sold for P65.