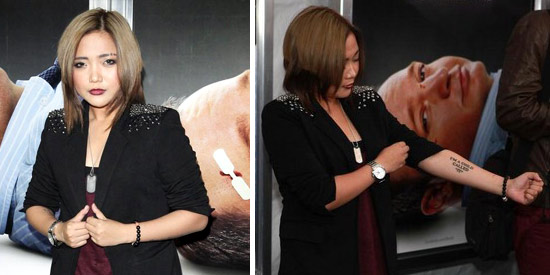 ---
Charice almost did not make it to the U.S.premiere of her second Hollywood film, Here Comes the Boom, because of an oversight.


The singer was about to board her flight to go to the United States but she was unable to do so because she left behind her passport.


Angeli Pangilinan-Valenciano, the wife of Gary Valenciano, posted on her Twitter account:


"Now it can be told. Charice forgot her passport and missed her 7:50 a.m. Delta flight to New York. It was the most stressful day! She flew via PAL."


The Filipina singer-actress eventually boarded a Philippine Airlines flight that took off later.


Fortunately, Charice was able to make it to the October 9 premiere of Here Comes the Boom at theAMC Loews Lincoln Square in New York City.


Kevin James stars in this comedy flick about a teacher who enters the mixed martial arts world in order to raise money for his students.


Charice's other co-stars in the movie are Mexican-American actress Salma Hayek and veteran actor Henry Winkler.


Kevin is best known as the lead star of the American sitcom The King of Queens. He was previously seen as the titular character in the 2011 movie Zookeeper.


In his red-carpet interview with Jammin' 101.5, Kevin praised his co-star Charice for her performance of a classic song in the movie.


"I rocked a Neil Diamond in this. Not me personally but my girl Charice rocks it. She's unbelievable, you'll see," said the actor who also co-wrote and co-produced this movie.


In the film, Charice performed Neil Diamond's "Holly Holy."


During the red-carpet screening, Charice showed off her new tattoo to the American media. The words "I'm a child called It" have been inked on her left forearm.


In an interview with OK! that was posted on YouTube, Charice described her co-star Salma Hayek as "cute" and "funny."


Charice exclaimed: "She's the cutest thing! Of course she's hot, that's a given, but her personality--you wouldn't expect her to be like that, she's so funny."


PORTRAYING A MUSICAL GENIUS. Charice was previously part of the 2009 Hollywood film Alvin and the Chipmunks: The Squeakquel.


In her second Hollywood movie, Charice is cast as a Filipino high school student.


In a promotional video about Here Comes The Boom, Charice talked about her role in the movie that started screening in the U.S. on October 12.


"I play Malia dela Cruz. I'm a Filipino student and she's a brainiac and a musical genius," she said about her role.


"I'm a student of Mr. Ross (Kevin James) and Mr. Streb (Henry Winkler).


"She actually had a dramatic personal life because of her dad. Her dad just wants her to go back to the Philippines and stop playing music and stop school and everything.


"She doesn't like it because she wants to be a musician and she wants to finish her studies."


She said about Kevin's role in the film: "Kevin James is a high school Biology teacher who actually sidelines as a mixed martial arts fighter just to save our music program.


"He's going to try to save that program so he's like going to join the UFC [Ultimate Fighting Championship]."


ADVERTISEMENT - CONTINUE READING BELOW