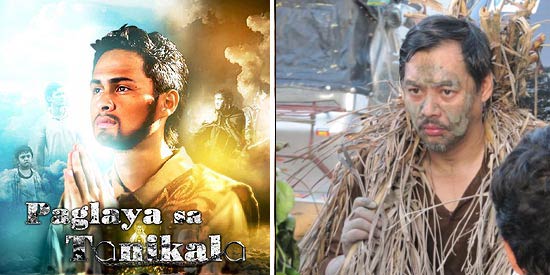 ---
The 38th Metro Manila Film Festival, the longest-running film festival in the Philippines, recently announced the top five (5) official entries to this year's New Wave section or the independent films category. This is the third year that the MMFF executive committee has included indie films in its lineup.
This year (2012), the deadline of submission for entries (finished films) for the New Wave category was last October 25, 2012.
Days after the deadline, Ms. Digna Santiago sent a formal announcement about the five official New Wave finalists. Each of these films will have a scheduled gala screening at Glorietta in Makati City, on December 18, a week before Christmas Day, the opening day of the main MMFF entries (mainstream films).
These films will then be shown from December 19 to 22, 2012 in two cinemas of Glorietta.
The five (5) official entries of the MMFF New Wave section are as follows:
1. Paglaya sa Tanikala (Freedom from Chains) -- From Kuwentista Productions and Somascan Fathers Foundation, the film is written and directed by Michael Angelo Dagñalan (Cinema One Originals 2010 Best Director for Layang Bilanggo).
ABS-CBN young actor Matteo Guidicelli portrays the Italian Saint Jerome (of 16th century), the Catholic Church's patron saint of the orphans and the abandoned. Matteo is also cast as Brother Jerry of the present time.
The film's logline: "In the 16th century, a warrior pledged to serve the poor and abandoned… His legacy still stands today."
Saint Jerome's legacy is being celebrated for 500 years now, worldwide. In the Philippines, the priests behind this belong to the Somascan Fathers Foundation in Alabang.
ADVERTISEMENT - CONTINUE READING BELOW
Others in the cast of Paglaya sa Tanikala (Freedom from Chains) are Micko Laurente (child actor), Nicco Manalo, Jaime Fabregas, Sue Prado, Leon Miguel, Raul Morit, Bor Ocampo, Gary Lim, Kristoffer King, Lui Villaluz, and Marife Necesito.
Ma-an Asuncion is the film's co-writer, co-producer, and cinematographer; Tonee Acejo is the line producer, and Ferdinand Lapuz is the associate producer.
2. Ad Ignorantiam – From Quantum Films, written and directed by Armando "Bing" Lao, a seasoned screenwriter (Tuhog, Serbis, Kinatay) who is now venturing into directing films. He started off with Biyaheng Lupa in 2009, which won the Grand Jury Prize of Digital Lokal section of Cinemanila International Film Festival of that year.
Ad Ignorantiam, according to the writer-director, is a story of a man who is charged of snatching a necklace. It's a found story based on a real legal case. It's produced by Atty. Joji Alonso (Kubrador, Ang Babae Sa Septic Tank, among others).
According to the Merriam-Webster dictionary, "ad ignorantiam" means: "by use of unanswerable challenge to disprove rather than by serious attempt to prove."
In the cast of Ad Ignorantiam are: Kristoffer King and Ina Feleo (previous Cinemalaya best actor and best actress, respectively), also with Kimmy Maclang, top indie actress Mercedes Cabral, and respected actor-director Ms. Laurice Guillen.
3. Gayak – From Pro.pro Artist and Advertising (Pro.pro stands for Professional Productions), the film is directed by TV-film-theater-advertising actor Ronaldo "Roni" Bertubin. He previously helmed Last Viewing, which was nominated as Best Picture of Young Critics Circle Awards in 2010.
ADVERTISEMENT - CONTINUE READING BELOW
Gayak revolves around the loving relationship between a man who wants to be the best father, and a son who hopes to be the best he can be. It's about a father's unconditional love for his son, and the son's journey towards self discovery.
Topbilled by Alan Paule, with more than 90 performances to his credit as an actor (film, theater, television), Gayak somewhat "launches" the film career of Sef Cadayona with a top billing in a co-lead role. Sef is a product of GMA-7's artista search Starstruck in 2009. Since then, Sef has become known for his TV and print commercials.
Also in the cast are veteran actress Evelyn Vargas and new indie actor Richard Bradley. The movie also has a theme song with the same title, with lyrics by Bertubin; composed and arranged by Robert Delgado, and interpreted by Gerald Santos.
4. The Grave Bandits – From Paper Boat Pictures in association with Bent Arrow Corporation, USA, and Fluid Post Philippines, this is first full length feature of Filipino-American writer-director-producer Tyrone Acierto from Chicago, U.S.A.. His family traces its roots in Zambales.
According to Acierto, in his interview by PEP.ph early this week, is proud to be part of the New Wave films "with the veterans." He said he wasn't really expecting when they submitted the film -- at the last minute -- and he even had to go back to the U.S. even before the filmfest run, but will try to get back to Manila soon.
ADVERTISEMENT - CONTINUE READING BELOW
The Grave Bandits is a coming-of-age, fast-paced adventure film with a twist of horror and dark humor. Filmed entirely on location, the filmmakers' original take on the "zombie genre" vividly portrays the myths of the East and the West and merge them to achieve an original and colorful cinematic masterpiece.
The film's logline: "A dormant alien virus is unleashed in an island in the Philippines... Hope is in the hands of two graveyard thieves..."
Cast includes new indie actor Ronald Pacifico, child actor Marti Sandino San Juan, young actress Jill Palencia (who appeared in Cinemalaya's Mayohan), and print-TV commercial model Millard Keung.
The movie is produced by Vanessa Ulgado (Filipino), with an American director of photography Marcin Szocinski, and producer-writer Reena Cortez.
5. In Nomine Matris (In the Name of the Mother) – From Hubo Productions, in association with Trinity Hearts Media and with the support of the Embassy of Spain in the Philippines. It is written and directed by Will Fredo, whose past films include Compound and Sa Pagdapo Ng Mariposa shown in Manila. His current film The Caregiver, is being shown in New York, USA, where he is based now.
This full length feature is about the passion of a young woman trapped between her craft as a Flamenco-Filipiniana dance protegé and as a woman falling in love with a man.
Her desire to be the best, in pursuit of greater things versus the reality of her conditions as a daughter, friend, and lover are viewed externally by the drama that unfolds in the movie and internally by the dance movements expressed in all dance sequences.
ADVERTISEMENT - CONTINUE READING BELOW
Surrounded by the sophistication and energy of the Spanish Flamenco, the trials and struggles of the principal characters are magnified cinematically. Creating a visual and auditory experience for the audience, the movie reflects not only the dreams and labors of the characters but also the dreams and labors of dreamers worldwide.
Starring Liza Diño (former beauty queen-turned-actress), Biboy Ramirez, Al Gatmaitan, Jam Perez, Maradee De Guzman, Bong Cabrera, Leo Rialp, Joan Palisoc, and introducing Ms. Tami Monsod and one of Spain's top flamenco masters, Ms. Clara Ramona (who did the choreography in the movie).
MMFF NEW WAVE HISTORY. The MMFF, in cooperation with the Metro Manila Development Association (MMDA), recognizes and supports the advent and development of independent films in the Philippines. It strongly believes that the independent film industry can be a strong venue for the promotion of fresh and new talents in the Philippines.
Locally-produced independent films have also proven their international supremacy, with films of Brillante Mendoza, Raymond Red, Pepe Diokno, among others.
Aside from these and many other international awards and recognitions, our independent films have succeeded as box office hits, proving that with the proper marketing support, these films can reach out to a big audience.
Among the commercially successful films are Ang Pagdadalaga Ni Maximo Oliveros, Ang Babae Sa Septic Tank, Zombadings: Patayin sa Shokot si Remington, and Ded Na Si Lolo.
The MMFF hopes to better facilitate innovation, diversity and originality in independent films by further developing its New Wave Section.
ADVERTISEMENT - CONTINUE READING BELOW
The year 2010 marked a new era for the MMFF when it hosted the "Tribute to Independent Cinema", a non-competitive event for the Independent genre, which later became the New Wave section. Five independent films were screened in Robinsons Galleria Cinema as a prelude to the MMFF opening on December 25, 2010.
By 2011, MMDA Chairman Francis Tolentino inspired by the continued popularity of independent films in the country and expressing his support to the genre, announced the addition of the New Wave Section to widen the scope of the MMFF.
This also included a subsection for budding student artists called the STUDENTS' SHORT FILMS, which was headed by director Mark Meily.
This year (2012), the MMFF will continue the tradition of supporting independent films through a bigger, better and bolder NEW WAVE Section.
AWARDS AND PRIZES. Entries will be checked for completeness of technical requirements and will be judged in consideration to the genre as indicated by the contestant.
MMFF shall designate the members of the Board of Jurors to screen, choose and identify the winners of the New Wave Full Feature Films Section.
The awards to be given (with cash prizes) are as follows: Best Picture -- P300,000; Special Jury Prize -- P200, 000; Best Actor -- P50000, Best Actress -- P50000, and Best Director -- P50,000.
The MMFF Awards Night will be on December 27, 2012.