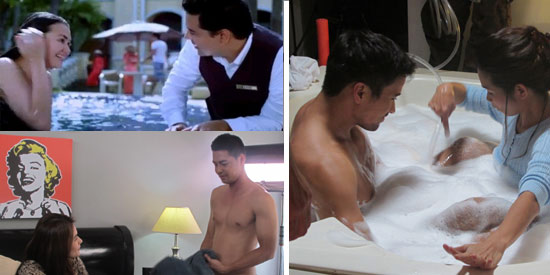 ---
24/7 in Love is an ensemble movie that stars ABS-CBN's prime Star Magic talents. The reason for the film, according to its trailer, is to celebrate Star Magic's 20th year anniversary. But having a multi-character story put great limitations on the development of the characters.


Four directors, namely John-D Lazatin, Mae Czarina Cruz, Frasco Santos Mortiz and Dado Lumibao, are at the helm of the seven narratives that make up 24/7 In Love. At the crux of the seven stories is the tale of Jane (Kathryn Bernardo), a teenager who has a serious crush on a singer named Billy (Daniel Padilla).


It is Jane's quest to win a chance to meet Billy in his December 21 concert that prompts her to do a video documentary that answers the question: "What would you do if today was the end of the world?" It is also her video-making efforts that allowed viewers to glimpse a slice of the rest of the characters' lives--a plot device that sadly reeks of artificiality. Kathryn Bernardo, as a die-hard fan, is sweet and adorable but her performance went overboard because she appears as if she's aping cute female characters in popular Koreanovelas.


Virginia (Pokwang), a 40-something female virgin who wants to experience "love" and/or sex before the world ends, hopes her wishes will come true through Charles (Sam Milby)--an English-speaking desperate-for-money Fil-Am.


Pokwang proves her winning Best Comedy Actress in the 26th Star Awards for TV is not just a fluke. Her past recognition is well-deserved as she managed to give a believable and humorous performance despite the predictable comic situations she is put in.


ADVERTISEMENT - CONTINUE READING BELOW
Barbara (Maja Salvador) is earnestly straightforward as a secretary who is hungry for the love and attention of her boss Ken (Diether Ocampo). As she forces herself in her boss' life, Maja is engaging and extremely entertaining without being annoying.


Belle (Bea Alonzo) is the BFF (best friend forever) of gay Butch (Zanjoe Marudo). Bea is, and as always, in her element in a romantic comedy segment. It is hilarious to see this real-life couple play a non-couple on-screen. Zanjoe is amusing as he plays his gay role to the hilt yet he respected the role enough to not turn it into a stereotypical screaming homosexual.


Verna (Angelica Panganiban) brings a melancholic performance as a wife who escapes her marital woes by going to Vietnam. There, she happens to meet a waiter named Elvis (John Lloyd Cruz). The depth of their execution as a would-be one-night-stand couple deserves praise. Their performances are so nuanced that I feel their story deserves more screen time, if not its own movie.


Pipoy (Piolo Pascual), as a developmentally challenged adult, does his best to appear innocently clueless but his delivery only comes off as trying-hard to be appealing. Child stars Zaijan Jaranilla and Xyriel Manabat save this story thanks to their spontaneous naiveté and winsome acting skills.


Patty (Kim Chiu), as a loyal underling to Maricar Reyes' one-dimensional portrayal of a condescending boss, plays her part the Kim Chiu way: sweet, at times sobbing, and with those adorable almond-shaped eyes distracting viewers from her limited acting skills. As the hero-turned-model Alvin, Gerald Anderson is able to engage viewers and he still has that undeniable chemistry with onscreen partner Kim, which should delight Kimerald fans everywhere.


All the stories are promising from the get-go but they were told and fleshed out in a hurry as if they were created under a 24/7 deadline. This explained the superficial motivations, forced coincidences and the unnatural situations the characters are put in.


ADVERTISEMENT - CONTINUE READING BELOW
The movie prioritized clumping all Star Magic talents in a 90-minute movie than telling a logically believable story. Breadth was prioritized over depth. The movie loosely connects one story to another with the hopes that the audience will catch up. Telling a good story was the least of the movie's concern as it focused on convincing the audience that it is telling a good story by giving viewers a mixture of a humor there, a little drama here, a little action there, and lots of cliffhanging kisses everywhere.


Bea Alonzo and Zanjoe Marudo's storyline was the most complete and well-rounded among the six. It is also their episode that defined and presented what real love is: despite Bea's character's obsessive need for Zanjoe's Butch to love her, she sets him free thanks to Zanjoe's emphatically credible explanation of what he is capable and not capable of being.


The movie was primarily saved by the directors who masterfully made the lackluster stories look visually appealing. Similarly, there are some segments that were delightfully engaging.


24/7 In Love could have been brilliant if only it took its sweet time to fully develop each of the characters, not just show them off as if they are in a quickie parade of stars.


This anthology film has been graded B by the Cinema Evaluation Board.



Ed's Note: The "PEP Review" section carries the views of individual reviewers, and does not necessarily reflect the views of the PEP editorial team.



ADVERTISEMENT - CONTINUE READING BELOW