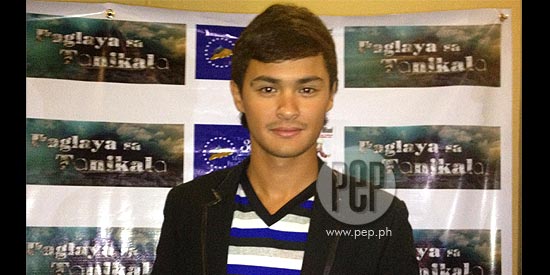 ---
Mattero Guidicelli did not have any second thoughts when he accepted the dual roles of St. Jerome and Bro. Jerry for Paglaya sa Tanikala.
At the premiere night of his first independent film last November 26 at TriNoma Cinema 1, Matteo told PEP.ph (Philippine Entertainment Portal) and other members of the media, "I've been wanting to work for an indie film for a long time, then they came to me and I said Direk [Michael Angelo Dagñalan] I've been wanting to work for indie, so this is it!
Ang Paglaya sa Tanikala (Freedom from Chains) is one of the official entries in the New Wave section of the Metro Manila Film Festival.
In the movie, Matteo plays the dual roles of St. Jerome and a modern-day religious person named Brother Jerry.


His second character is a Somascan brother who met a street child named Berto, a victim of human trafficking. Brother Jerry helped Berto to change and live a life inspired by St. Jerome.
Born in 1486, St. Jerome Emiliani helped prostitutes and orphans repent and change for the better. But before his conversion, he was a senator, a drunkard, and a guy who liked to spend his money extravagantly.
After he was captured by Austrians, he changed his reckless ways, sold everything and devoted his life to God. He felt very passionate about helping kids and prostitutes.
DREAM ROLE. Matteo shares that his family is very proud of him."My mom is very happy. My mom's mom, my lola from Cebu is very happy kasi yung pangarap niya talaga para sa akin ay maging pari ako.
ADVERTISEMENT - CONTINUE READING BELOW
"Dati nung bata ako, I pretended to be a priest. Sobrang saya niya [at sabi niya], 'sana maging pari si Matteo,' tapos sabi ko 'la hanggang pelikula lang, hindi totoong buhay, hindi mangyayari 'yan.
"And my lolo naman from my dad's side he's very, very happy siyempre Italiano, I speak Italian and St. Jerome kasi is from Venice, my dad is from Venice so my lolo's very happy.
"My lola naman she passed away two years ago but I am sure she's very, very happy because this is a dream come true for her na magkaroon ng pelikula na Italiano ako."
Matteo was handpicked by the director for the role because of his Italian roots.
When asked about his working experience with Direk Dagñalan, the ABS-CBN actor excitedly answered, "He was amazing. At first, I was intimidated by him. Kasi, I met him at our arnis session because we have fight scenes training, arnis and stuff.
"He's a quiet guy; he would nod all the time so sabi ko 'this guy is strict' Pero no! He's a very, very nice guy, very open-minded.
"It's my first indie film, iba to work in an indie setting, e.
"They are really open-minded; you can do what you really want to do. So he really guided me and let me do what I wanted to do."
This 2012 has been a very lucky year for Matteo's acting career. He plays the lead actor in the afternoon soap opera Paraiso and landed the lead role in Paglaya sa Tanikala.

ADVERTISEMENT - CONTINUE READING BELOW
CHAINED LOVE? Does Matteo consider love as a chain that prevents him from doing what he loves the most? The actor replied, "Of course not! Love is the most beautiful thing and I will never regret anything about it.
"It's just that at this time of my life my priorities are different.
"I am happy that we are just good friends. I love my life, I love everything that is happening in my life. I love my work and my sports."
He admits that he is not into dating yet at this moment and he wants to concentrate on acting first.
NEW BEGINNINGS AND SECOND CHANCES. Paglaya sa Tanikala is all about new beginnings and second chances. Matteo shares the lessons the movie wants to impart to its viewers. "It's a very nice movie it teaches a very good moral lesson anybody can start from scratch.
"If something bad happened to you in your life you can stop and start again.
"You can change your life, parang reborn.
"Reborn, new beginning, second chances."
Matteo said that the movie has helped him become closer to God. But did it also help him reconcile with ex-girldfriend Maja Salvador?
"This movie helped me. It helped me also to be closer to God but I am happy.
"Forgiveness is very important in life and I am happy that we're okay.

"We're not together again but we're friends. For a while, we weren't talking and now we started talking again.


ADVERTISEMENT - CONTINUE READING BELOW
"Haggang doon lang kasi I learned how to set my priorities and everything now," says Matteo.
BEING BRENNAN AND BROTHER JERRY. In Paraiso, Matteo's character Brennan is seen by viewers as someone who does not mind showing off his muscular body. Meanwhile, in Paglaya sa Tanikala, his character is a religious person.


Despite these widely disparate projects, Matteo is grateful for these opportunities to showcase his acting skills.


"This year was really a year for my career. I was actually doing Paraiso and this at the same time."
"'Matteo anong ginagawa mo?' Dito naghuhubad ka, dito nagdadamit ka.
"It was nice, it's a good jump. Direk Mike has been guiding me not just him but the producers, the staff they were all guiding me.

"Sometimes I would forget, I'd take my shirt off then I'd realize that no! I am a Saint here, relax."
PLANS FOR 2013. What are his immediate plans for next year? "If another acting comes up I would concentrate on that again.
"Whatever project comes, I will give my 110% and of course my triathlon sports, I've got a bunch of races lined up for next year.
"Triathlon does take a lot of time. It's a sport that requires a lot of training maraming beses ako nagkakasakit, I got sick last week, I had to take a bunch of antibiotics 'coz I got over trained and over puyat.
"Now I learn how to conserve my body."
Paglaya sa Tanikala will then be shown from December 19 to 22, 2012 in Glorietta Cinemas.
ADVERTISEMENT - CONTINUE READING BELOW