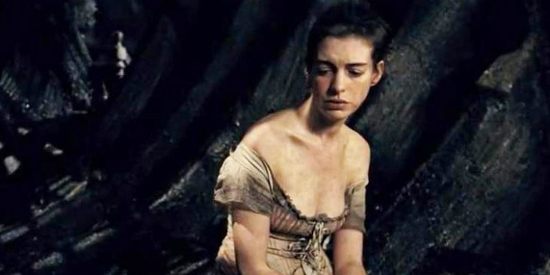 ---
I was so moved by this wonderful novel of Victor Hugo that I read the 1,300-page book twice.
Les Misérables simply overflowed with passion— Jean Valjean in pursuit of his purpose in life; Javert's relentless devotion to the law; Fantine's sacrifices for her daughter; Cosette's wretchedness in the hands of the Thénadiers; Eponine's unconditional love for Marius Pontmercy; and the unyielding conviction of the revolutionaries led by Enjolras.
The film was able to capture the poignant power and depth of the novel.
Hats off to Hugh Jackman's enthralling performance and Anne Hathaway's compelling rendition of "I Dreamed A Dream"!
Singing wasn't Russel Crowe's major strength. But contrary to some reviews describing his acting as "stoic," the Oscar winner actually did a good job breathing life into the always-unyielding and usually-pensive character of Javert.
Isabelle Allen, the young Cosette, and Samantha Barks, who played Eponine, made a good impression despite having only brief moments on screen. The 10-year-old child star succeeded in conveying the vulnerability of her character, while Samantha's death scene had most people in tears.
Adding more flavor and spice to the film were Sacha Baron Cohen and Helena Bonham Carter, who played Thénardier and Madame Thénardier, respectively.
The story, in effect, was seamless, and showed the main points of the novel. But there were parts when intensity should have been the highlight instead of musicality.
In the book, Javert was very tenacious (even obsessed), whereas on the film, Tom Hooper made him dutiful.
The sad plight of young Cosette was also downplayed.
More scenes were dedicated to the preparations rather than the actual revolution.
But still, Les Misérables is by far the most remarkable theatrical production made into a cinematic masterpiece. The sets and shots were simply stunning, and the actors soared to new heights— singing emotion-filled notes magnificently.
OTHER REVIEWS
"The first time I saw Les Mis was back in 1995 when I chanced upon my mother watching the 10th Anniversary special on TV.
"I sat beside her, mesmerized especially by the confrontation scene between Jean Valjean and Javert.
"Eighteen years later, I still felt the raw power displayed by this scene—now portrayed successfully by Hollywood actors Hugh Jackman and Russel Crowe.
"The theatre was quiet but I couldn't help but hum along, much to the chagrin of my companion. But who cares? Les Miserables hauntingly affected me in such a way that for 2 hours and 45 minutes, I was sympathetic to the plight of the young men of the rebellion, Valjean's journey to redemption, and Fantine's sacrifice for her child.
ADVERTISEMENT - CONTINUE READING BELOW
"The film version of this wonderful musical added fuel to my visual imagination, filled my ears with familiar yet fresh melody, and filled my heart with indulgence."
— Yas Salanga, PEP.ph
"Les Miserables was a visual feast. Director Tom Hooper, who earned an Oscar for The King's Speech last year, shot every scene beautifully.
"But opting to do the film in live sound rather than recording the songs in post-production had its downside. Save for Hugh Jackman, Anne Hathaway, Helena Bonham Carter, and Sacha Baron Cohen, the rest of the cast seemed to be torn on whether to focus on acting or singing.
"There were a few nuances too that distracted the audience— Eponine's unbelievable tiny waist and lack of personality, Cosette's exaggerated high-pitched voice, Marius's lack of on-cam appeal, and the rain that poured on the 'On My Own' scene but was hardly seen in 'A Little Fall of Rain.'
"Although Hugh Jackman played the part very well, he was still far from the Hugo's description of Valjean, who was supposed to be a gentle giant.
"All in all, Les Miz was worth the almost three-hour running time, just be sure to pick a comfy seat!"
— Candice Lim, YES! magazine
"Les Miserables actors, especially Hugh Jackman and Anne Hathaway, did a very good job in playing their respective characters. Their performances had really captured the hearts of the moviegoers, who were moved by the movie's emotional scenes.
"As for Russel Crowe, I think he sometimes looked kind of stiff, which didn't show the right emotion needed for some scenes.
ADVERTISEMENT - CONTINUE READING BELOW
"In general, I think the movie has made the people appreciate a classic story, especially those who are not really into theater."
— Nerisa Almo, PEP.ph
"If there's a law prohibiting moviegoers from singing inside the cinemas, I'd be guilty. Once you hear the actors sing, you can't help but sing along with them and drown in tears while watching their scenes.
"I knew about the Victor Hugo novel, but I was one of the many who never had the chance to watch any previous film or stage adaptation.
"That's why hearing about this version with the known actors and actresses of the 20th century made it more interesting to watch.
"It was a lengthy film. But I didn't mind.
"It was both captivating and heartbreaking, especially the part when Eponine sang 'On My Own.' I swear tears started to roll down my eyes. It was a certified tear jerker!"
— Rizza Benedicto, PEP.ph
"Every scene of the film has its own visual treatment, making it— at times— a bit disconnected with the other scenes.
"But I liked the close-up shots, focusing on the emotions of the actors rather than their singing. And how they still managed to deliver great performances, especially Anne Hathaway as the hopeless Fantine singing 'I Dreamed a Dream.'"
— Nikko Tuazon, PEP.ph